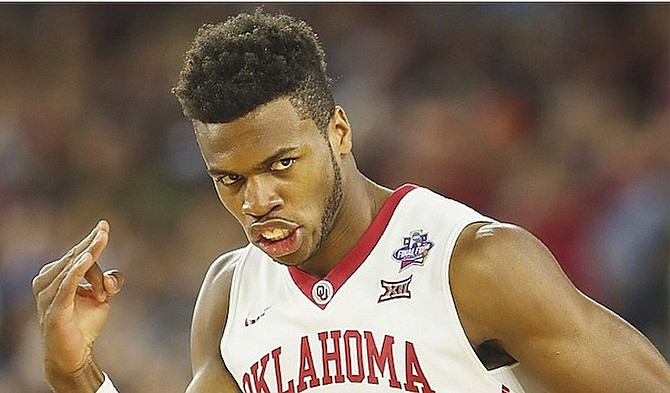 Buddy Hield
#By RENALDO DORSETT
#Sports Reporter
#rdorsett@tribunemedia.net
#Once he opted out of the NBA Draft Combine process, it was evident the private workouts would gain a greater level of importance for Buddy Hield and his draft stock.
#Hield underwent his workout of the process and scouts are already raving at the potential of the former Oklahoma Sooners guard.
#Following his first workout in Anaheim, California, on Tuesday, ESPN Insider Chad Ford said Buddy's efficiency of his greatest skill was well on display – his shooting.
#"Hield certainly looked the part as a shooter. He rarely missed shots, regardless of where he was on the floor. When the NBA 3-point line became boring (a line that is typically intimidating for college shooters, regardless of their skill), he was comfortable stepping back another five feet and hitting 20-of-25 from "Curry range" in one drill.
#And Hield did it with all the confidence that he showed at Oklahoma last season. He believes he can be special – great shooters need that level of confidence," he said. "His confidence and quick release make him arguably the best shooter in this draft. In a league desperate for shooters, that only makes him a more attractive lottery pick."
# Hield told anyone willing to listen that he returned to the Sooners for his senior season in an effort to improve his ballhandling, ability to finish at the rim and defensive skillset. "Both efforts are coming along nicely. Hield looked terrific in a number of ball-handling drills, and while I didn't get to see him play defence (he was in a one-on-none workout), he seemed confident he was going to address his defensive deficiencies in the NBA," Ford said.
#Hield, expected to be one of the top selections in the June 23 Draft, completed his star-studded senior season for the Oklahoma Sooners with a litany of awards, including the John R Wooden, Naismith and Oscar Robertson Player of the Year trophies.
#He was also named to the National Association of Basketball Coaches first-team, a first-team All-American by the United States Basketball Writers Association (USBWA), Sports Illustrated and USA Today. His list of honours thus far on the year also includes the Sporting News Player of the Year, USBWA District VI Player of the Year, CBS Sports Player of the Year, Big 12 Player of the Year and the All-Big 12 first-team.
#He expressed confidence that his defence will not be a liability once he gets to the next level.
#"My freshman year I was a good defender. My sophomore, junior and senior year I turned into a scorer. I took a step back the last three years. But if you want something you go and get it. I know in the NBA there will be a lot of 2-guards coming at me. I know I have to stop them to stay on the court. Defence comes from your heart inside. I have a lot of heart." Hield said. "I'm not going to let anyone take advantage of me. That's how it's always been for me growing up. So I'm going to do what I have to do when I get there and I don't think defence will be a problem for me."
#While the majority of the invited players attended, several top prospects – including Hield, Louisiana State University's Ben Simmons, Gonzaga's Domas Sabonis and Washington's Dejounte Murray – opted not to participate.
#Top overall pick of 2015, Karl-Anthony Towns, also opted out of the combine.
#Hield is projected by virtually every reputed mock draft or scouting service to be taken in the lottery. NBAdraft.net projects him to go fourth overall, ESPN.com projects him as the sixth overall selection while DraftExpress suggests he will go seventh.
#Hield, a six foot, 4-inch, 207-pound shooting guard, is projected to have a likely destination of teams looking for shooting and backcourt help – the Boston Celtics, Minnesota Timberwolves, New Orleans Pelicans, Denver Nuggets or Sacramento Kings.
#Hield averaged 25 points per game, shot 50 per cent from the field and 45 per cent from three-point range. He also made four three-point field goals per game and shot 88 per cent from the free throw line.
#The Celtics, who have the greatest probability of landing the highest pick between the group, shot just 34 per cent from three-point range as a team during the regular season. They also made 8.7 three-point field goals per game. Avery Bradley was the team's top three-point shooter among players that qualified at 36 per cent.
#The Pelicans could also benefit from Hield's shooting with Eric Gordon and backup point guard Norris Cole as unrestricted free agents. Gordon led the Pelicans in three-point makes per game while shooting 38 per cent from long range.
#The Kings continue to search for a consistent answer at the shooting guard spot after 2013 lottery pick Ben McLemore scored just 7.8 points per game and shot 36 per cent from three pointers.
#Hield made a record 147 three-pointers last season at Oklahoma in 37 games while the Kings leading three-point shooter, Omri Casspi, made 112 in 69 games.
#The NBA Draft is scheduled to take place in Brooklyn, New York, on June 23.