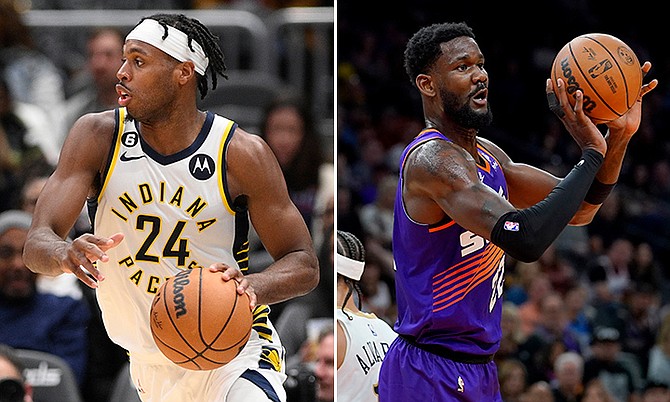 Chavano "Buddy" Hield and Deandre Ayton.
As of Monday, October 31, 2022
#By RENALDO DORSETT
#Tribune Sports Reporter
#rdorsett@tribunemedia.net
#Chavano "Buddy" Hield has enjoyed a hot shooting streak over the last four games while Deandre Ayton continues to be sidelined with an ankle injury to highlight play from Bahamian players in the NBA.
#Hield finished with a near triple double on Saturday night – 17 points, nine rebounds, and eight assists – as the Indiana Pacers won their second consecutive game 125-116 over the Brooklyn Nets. He shot 5-11 from three-point range (46 percent) in 38 minutes.
#The Pacers made a franchise-record 23 three-pointers. Their previous franchise record for 3s in a regular season game was 21 at home against Milwaukee on May 13, 2021.
#It was Hield's third consecutive with at least five three-point field goals and his fourth consecutive game scoring at least 17 points.
#Over the course of that four-game stretch, Hield has averaged 21.3 points per game and shot 48 percent from three-point range.
#Hield's streak began in an October 24 loss to the Philadelphia 76ers when he finished with 18 points, six rebounds and six assists. He followed with 25 points and a season high seven three pointers in a loss to the Chicago Bulls on October 26.
#On October 28, he repeated his 25-point performance against the Washington Wizards and shot 5-9 from three-point range.
#On the season, Hield is averaging 17.1 points, 5.7 rebounds and 3.7 assists per game.
#"Everybody's voice is needed. We just have to learn quickly, and adapt," Hield said in training camp. "We brought in a group of guys that are a great fit, have great personalities when you understand and like each other, it's easier to have great vibes. When guys bring in their egos and go about things in different ways it's not a good vibe. I think the guys we have in the locker room are a group of guys."
#Ayton missed his first game of the season last night when his Phoenix Suns took on the Houston Rockets.
#In Friday night's 124-111 loss to the New Orleans Pelicans, Ayton hurt his left ankle in the first quarter when he stepped on the foot of Pelicans centre Jonas Valanciunas.
#He got up and walked to the bench, but a few minutes later walked back to the locker room for further evaluation.
#He had four points and three rebounds in just eight minutes prior to the injury. Ayton's ankle will be re-evaluated in a week, according to the Suns.
#Through four games, Ayton averaged 18.3 points, 9.5 rebounds, and 2.5 assists per game on 55 percent shooting from the field.
#He notched 30 double-doubles last year in only 58 games played and already has two in the first week of the season.
#He opened the season with 18 points and 10 rebounds in the season opener against the Dallas Mavericks and had 16 points and 14 rebounds against the Golden State Warriors.