As of Monday, October 31, 2022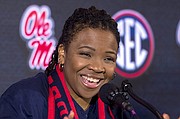 Yolett McPhee-McCuin
#By BRENT STUBBS
#Senior Sports Reporter
#bstubbs@tribunemedia.net
#WITH a new contract signed, Grand Bahamian Yolett McPhee-McCuin is looking forward to building on the success of last year by her University of Mississippi Lady Rebels.
#Ole Miss, as they are commonly referred to, pulled off an impressive 80-38 victory against Delta State in an exhibition game played on Friday night.
#Now McPhee-McCuin and the Lady Rebels are looking forward to the start of the regular season that will include her first trip home to showcase her team in November.
#Entering her fifth season and the first of her new four-year deal at Ole Miss, McPhee-McCuin said despite the loss of First Team All- SEC centre Shakira Austin, they will have a pretty good season.
#"It's a lot of newness, trying to figure things out," she said of Austin, who is now playing in the Women's National Basketball Association with the Washington Mystics. "Minus our pro player, we're learning how to survive and function without her. That is our focus right now. So we're trying to figure out what we want to do and be who we want to be. It's a process, but I enjoy it."
#Ole Miss women's basketball has been picked to finish fifth overall in the SEC Preseason Media Poll released on Tuesday.
#The ranking is the highest preseason slot by the media for the Rebels in the poll since the 2005- 06 Ole Miss team was selected to finish fifth.
#The defending national champion South Carolina was voted to win the conference for the second straight season in a row, with NCAA Tournament teams in Tennessee, LSU and Arkansas rounding out the top-four.
#McPhee-McCuin said she's going to build her team around what is available to her.
#"We're going to look different and so we have to play differently," she projected. "We're going to have to play more of a community thing by committee for sure. But someone will emerge."
#Aliyah Boston, who was once again selected as the Preseason Player of the Year, after earning the 2022 Player of the Year award as a junior, is one of the top players to watch for Ole Miss this year.
#Ole Miss heads into the 2022-23 campaign, coming off of one of its best seasons in programme history and its first NCAA Tournament appearance in 15 seasons.
#The Rebels return a solid starting core in juniors Madison Scott and Snadda Collins with reigning SEC Sixth-Woman of the Year Angel Baker looking to make a mark in the starting lineup. Ole Miss' winning percentage of 71.8% off of a 23-9 record last year, was the highest for the programme since 1993-94.
#Nine newcomers joined the Rebels including two freshmen and seven transfers, with three well-versed to the grind of the SEC.
#After leading the SEC in assists last season. Myah Taylor joins the Rebels from Mississippi State as one of the nation's top point guards after earning a spot on the Nancy Lieberman Award Preseason Watch List.
#Pitt transfer Rita Igbokwe also looks to shine on the interior, after blocking 68 shots last season as a junior to rank 20th in the country.
#"We just want to continue to build on the foundation that we already laid," McPhee-McCuin said. "Now it's putting those cornerstones in place so that we can be successful in the future.
#"Last year, I thought we did a good job setting the foundation and now we have to continue to build the house. The house isn't complete until you win a national championship. So we have a lot of ways to go."
#The Rebels will begin their regular season on Monday, November 7 at 5pm at home against Kennesaw State. They will play three more games on November 10 against Southeast Missouri State; Sunday, November 13 on the road against Little Rock and Wednesday, November 16 against Southern Miss.
#Then it's here in the first for the Baha Mar Pink Flamingo Championships in their two games against Dayton on Monday, November 21 and Utah on Wednesday, November 23, "We're looking forward to that. We're excited about that," McPhee-NMcCuin said. "I'm looking forward to coming back home personally because I'm from the Bahamas.
#"But for the team, we are going to be playing two great teams who will really put us to the test. So we definitely want to come down and put on a show for my Bahamian people."
#Ole Miss is expected to come to town with a contingent of about 35 people, but McPhee-McCuin said they are expecting a large group of fans to accompany them to the Bahamas, just as they do whenever they play on the road in the United States of America.
#"We just want the Bahamian people to come out and support us," McPhee-McCuin said. "I'm in the SEC so there's pressure every time I step out on the floor."
#McPhee-McCuin is a former Bahamian national team point guard and the first female player to sign a division one letter of intent when she went to play for the University of Rhode Island for her junior and senior years in 2003 and 2004 after she played for Miami-Dade Community College the previous two years. She went on to earn her first assistant coaching job at Frank Phillips College in 2004 before she moved on to Arkansas-Pine Bluff, Pittsburgh and Clemson before getting her first head coaching job at the University of Jacksonville in 2013.
#"I'm pleased with where I am at. I love what I do. I'm coaching at the highest level. I'm able to recruit the best talent and I'm competing against the best players and the best coaches," said McPhee-McCuin, who signed her first contract with Ole Miss in 2019.
#"So for me, I'm excited about where I'm at right now. It's just pretty much trying to complete the mission here. It's going to take time. I just signed a new contract, so I plan to be at Ole Miss for a while and really build this programme up to one where it has national recognition."
#McPhee-McCuin earned national prominence when she coached to lead the women's national team to their first championship title in 10 years in a 55-51 victory over Jamaica at the Caribbean Basketball Confederation to qualify for the 2016 CentroBasket Championship.
#And during the 2021-22 campaign, McPhee-McCuin also became the first woman in Bahamian history to coach at the men's national level, serving as an assistant with the Bahamas men's senior national team during the World Cup qualifiers.
#Although she has coached one Bahamian guard Valerie Nesbitt at Ole Miss from 2019-2021, she's looking forward to adding the second to her roster and that could happen very soon.
http://www.tribune242.com/news/2022/oct/31/mcphee-mccuin-looks-build-last-years-success/?news