As of Wednesday, October 5, 2022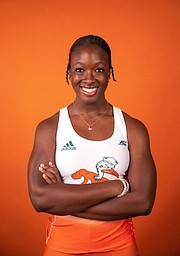 RISING young discus thrower Calea Jackson of Blue Chips Athletics.
#By BRENT STUBBS
#Senior Sports Reporter
#bstubbs@tribunemedia.net
#ALTHOUGH she won't sign her official letter of intent until November, rising young discus thrower Calea Jackson from Blue Chips Athletics has confirmed that she will be attending the University of Miami in August on an athletic scholarship for the Hurricanes women's track and field programme.
#Jackson, 17, is currently attending Rabun Gap-Nacooche School, a boarding school in north Georgia, She had qualified for CARIFTA during her seventh grade at Queen's College, but because she was only 12 years old, she was ineligible to compete.
#In April, she participated in her first Caribbean regional competition at CARIFTA in Kingston, Jamaica where she placed fourth in the discus.
#In preparation for the upcoming season, Jackson said she's in constant dialogue with her Blue Chips Athletics Club Corrington Maycock online to get her workouts done because there's really no throwing programme for her at school.
#"I am looking forward to CARIFTA, seeing that it's going to be in the Bahamas," said Jackson, who will be competing in the under- 20 girls' division. "I want to do really well because it's at home. I feel I have a lot to prove, so I'm looking forward to competing."
#On her choice of college to attend, Jackson said Miami was an easy location to settle on.
#"I had a lot of good schools to look at and to choose from," she pointed out. "But I chose Miami because not only do I think I would excel from the athletic perspective, but also from an academic perspective.
#"They have an awesome medical programme and that is the field that I want to go into in the future. They also have a great track programme. That was the balance that enabled me to select that school."
#Although she's versatile in the throwing events, Jackson said she and Maycock, as well as the coaching staff at Miami, agreed that she would abandon the shot put and concentrate a little more on her specialty in the discus with her emphasis now being placed on the hammer.
#"I wasn't as good in the shot put as I am in the discus and I always wanted to do the hammer, but it's not offered for high school," said Jackson, who has a lifetime best of 45.19 metres or 148-feet, 3-inches in the discus and 11.45m (37-6 ¾) in the shot put.
#On her transition from high school to college, Jackson said she feels it will be an easy one.
#"It should not be a difficult transition for me because I'm already in a boarding school and I don't think much will really change, except for the fact that I have a coach there training me," she said. "So I'm looking forward to having a coach training me so that I can continue to excel in the sport."
#Maycock, a former CARIFTA thrower who has turned into one of the country's top throwers' coaches, said Jackson has shown tremendous progress since she first qualified for CARIFTA as a seventh grader at Queen's College.
#"She came a long way," said Maycock, who celebrated his birthday on Tuesday. "She's in boarding school in Georgia, so I continue to coach her online. She is working very hard, so I'm expecting some great things from her when she heads to Miami."
#As he looks ahead to next year, Maycock said Jackson has an exceptional collegiate career as she competes in only the discus and the hammer, the latter of which he feels will turn out to be her best event.
#"This is her last year in high school, so we expect for her to compete at the Penn Relays today," Maycock said.
#"I think she will be one of our better throwers because she has the potential. She's a very hard worker."
#Jackson, who left Queen's College in 2020 for Georgia where she currently attends school with Mila Sands and Khory Moss, expressed her gratitude to God, her mother Carla Jackson and coach Maycock.
#She also thanked her team-mates for their support as she prepares to venture into the collegiate ranks next year.
http://www.tribune242.com/news/2022/oct/05/calea-jackson-commits-university-miami-hurricanes/?news