As of Wednesday, October 5, 2022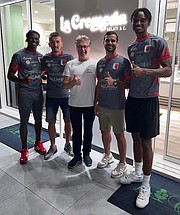 RICARDO McPhee and Christopher Rahming Jr with team officials.
#By BRENT STUBBS
#Senior Sports Reporter
#bstubbs@tribunemedia.net
#FROM playing together at age five with the United Football Club to team-mates on the men's national team before they split up and played against each other's academies in England, Ricardo 'Ricky' McPhee and Christopher Rahming Jr are now re-united as team-mates on their first professional soccer team in Italy.
#The pair of 23-year-old players signed their first pro contracts two weeks ago to play for the Casteilaneta Calcio 1962.
#While McPhee, a centre/ forward would have played in their first game on Sunday that ended in a scoreless draw, midfielder Rahming Jr is expected to play in their next game after he just got all of his official paper work completed.
#While he was playing for an academy in England, Rahming Jr said his coach introduced him to a few pro teams and when the offer was made to try out for Casteilaneta Calcio 1962, he invited McPhee. Together, they impressed the coaching staff and were signed to a one-year deal.
#"I just feel that it's all God who brought us back together to make something happen big for the Bahamas," said Rahming Jr. "It's kind of like fate that we met playing so young with each other, then against each other in rival academies and now we have signed our first pro contract together. It's only God to have brought us together again."
#For McPhee, whose team lost out to Rahming Jr's when they played in their separate academies in England, it was a blessing to play with someone who has known just about all of his life.
#"We both share the same dreams since being young kids and now to see us achieve that dream, not just at the same time, but in the same place, is truly a blessing. I want to thank God for this."
#In his debut with the team, McPhee said it was more than he anticipated.
#"It was as tough match, very physical, fast and technical, but there's nothing that my ability could not get through," McPhee said.
#Based on what he saw, Rahming Jr said he hopes to provide some strength to their midfield.
#"I'm just looking forward to getting into the game and to display my ability to help the team as much as I can," he said.
#As the only non European Union based players on the team, Rahming Jr and McPhee said it does not matter where you come from.
#"If you say you want something, just go and get it," McPhee stressed.
#To the players they left behind, Rahming Jr said just as they got the exposure, it could happen to any other Bahamian.
#"They just have to put in the hard work and wait for their opportunity to come," he stated.
#Over the next eight months, the duo are hoping to produce the kind of performances on the field that will enable Casteilaneta Calcio 1962 to contend for one of the two playoff spots in the league this year.
#The team finished in the middle of the table last year and is eager to move up the ladder.
#If there's any hurdle that they both have to deal with, it's the language barrier.
#They noticed that not many Italians speak English and so they find themselves learning some Latin words on the fly.
#"It's been a little hard to learn the Latin language," McPhee said.
#If there's any consolation, McPhee said they are located in a very small city where "everyone knows everyone" so it gives us much more time to get adjusted to our environment and at the same time focusing on football. "We have fans driving to our matches, which are normally 45-one hour away from our city," McPhee said.
#The stadiums they play in on the road house between 2-3,000 seating capacity, as compared to just under 1,000 at home.
#For the younger players back home in the Bahamas, McPhee advised them that it's not "how you start, but rather how you finish. If you dream it and you believe it, you can achieve it. "I come from playing home, growing up on Carmichael Road to moving to England for football, then to Cyprus and Sweden to the division II level to come here for my first professional contract. Anything is possible."
#The son of Chantell Varence and grandson of Clarice Varence, McPhee has two sisters Shernesha and Sherniah Pratt.
#McPhee graduated from Garvin Tynes Primary School, attended Aquinas College for grade seven and then entered the Leadership Academy Home School before leaving to complete the 11th and 12th grades in the United States of America.
#Rahming Jr is the son of Christopher Rahming Sr and Yvette Rahming and the brother to Gabrielle Rahming.
#He attended St Anne's School from primary to eighth grade before enrolling in St Andrew's School for the ninth grade and then departing for the USA as well to complete his high school tenure.
#"To anyone playing football in the Bahamas, if God gives you a dream to play pro, it's a reason he gave you that dream," he said.
#"So put your head down and work up and trust God. That is the only way you will make it."
#Together, the duo want to "put the Bahamas on the map,' McPhee said. "We want the world to know that we also play football in the Bahamas," he added.
http://www.tribune242.com/news/2022/oct/05/ricardo-mcphee-and-christopher-rahming-jr-reunite-/?news