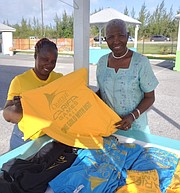 Presenting former veteran women's national softball team player Daisy Hanna-Walker with a t-shirt for Carifta.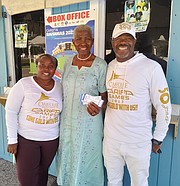 Former veteran women's national softball team player Daisy Walker-Hanson is flanked by Patrice Ferguson and Lynden Maycock as she purchased her tickets for Carifta.
#By BRENT STUBBS
#Senior Sports Reporter
#bstubbs@tribunemedia.net
#TICKETS and merchandise sales for the Oaktree Medical Center's 50th CARIFTA Games are going quite well, according to director of sales Patrice Ferguson.
#On Wednesday at the Cultural Village, Ferguson and Lynden Maycock, the chief executive officer of the Local Organising Committee, welcomed a special guest as former veteran women's national softball team player Daisy Walker-Hanson showed up to purchase her tickets and merchandise for the games, scheduled for April 8-10 at the Thomas A. Robinson National Stadium.
#"I love to patronise our country. When I was in sports, I know a lot of people came out and supported us when we were playing," Walker-Hanson said. "So I want to contribute to the young people who are now carrying the mantle for our country.
#"I want to cheer for them and I want them to see my visible appearance. I hope that they are enthused about competing and winning for the country. So from Sunday, I will be out here supporting our people."
#The former banker, who left her mark on the sport of softball as a member of the women's team that was once ranked at number three in the world, said it's always good when the country can host such international events, so she just wanted to make sure that she's a part of Team Bahamas' quest to be the best.
#"I am now trying to encourage people to get to know Jesus Christ," Walker-Hanson said.
#"I am trying to encourage them not to make the kind of mistakes that we made and to point them in the direction of Jesus Christ."
#Maycock said he was thrilled to have been on hand to greet and meet Walker-Hanson, whom he didn't get to see play because he was too young.
#"I felt really good to know that a celebrity like Daisy Walker came back and patronised us and purchased her tickets for the games," Maycock said. "I would have heard about her in my time, but to actually meet her was very humbling. "I was very appreciative that she was really down to earth and so I was speechless being in her presence. It just shows the magnitude of people who are coming out to support these games."
#Adderley said the sales for both the tickets and the merchandise have been going very well and she anticipates that it will increase this weekend as the Bahamas Association of Athletic Associations and both the Ministry of Education and Youth, Sports and Culture will host the National High School Championships and final CARIFTA Trials.
#"We want to encourage Bahamians to come down and get your tickets. They are going down. The gold seats are all gone, but we will still have silver and bronze seats," She said.
#"The bronze seats are just as good because they are on the 100m straight and the silver are just above the gold, so you still can purchase some very good tickets and at responsible prices."
#Ferguson revealed that the three-day prices for the gold tickets are priced at $75, silver is $55 and bronze is $40. For those who only wish to secure the daily prices, they are pegged at $25 for gold, $20 for silver and $15 for bronze.
#As for the merchandise, Ferguson noted that the prices are only $20 for long sleeves and $15 for short sleeves. Designated colours for the three days of competition are black on Friday, white on Saturday, aquamarine on Sunday and gold on Monday. "Come Gold With Us" caps are also on sale in black and white for $15 each.
#"Come down get your tickets and your merchandise and come gold with us," Adderley said.
http://www.tribune242.com/news/2023/mar/24/carifta-ticket-sales-going-well/?news