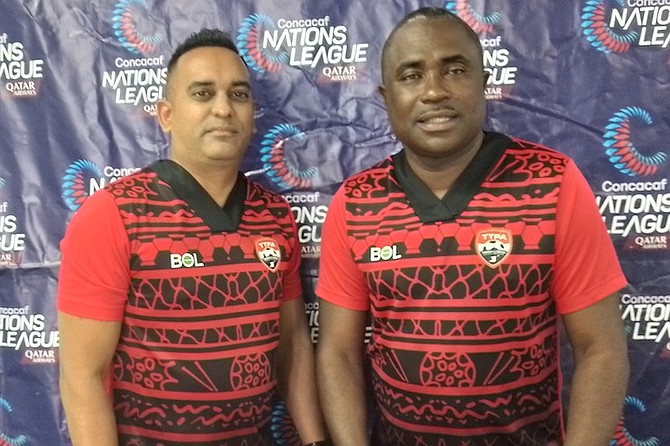 SHOWN, from left to right, are Shaun Fuentes, director of media/communications for Trinidad & Tobago and head coach Angus Eve.
#By BRENT STUBBS
#Senior Sports Reporter
#bstubbs@tribunemedia.net
#Trinidad & Tobago, coming off their training camp in Fort Lauderdale, Florida, are looking forward to their rematch against the Bahamas at 4pm today in the Concacaf Nations League match at the Thomas A. Robinson National Stadium.
#On their arrival to The Bahamas yesterday, head coach Angus Eve spoke to the media about his expectations of his young team as they got in their last practice and to get acclimatised to the conditions here.
#"We are happy to be here in your beautiful country," said Eve, who is making his maiden voyage here. "I'm happy that I leave with some enjoyment after the game."
#Trinidad & Tobago nipped the Bahamas 1-0 in their first meeting on Monday, June 6, 2022 at the Hasely Crawford National Stadium.
#The Bahamas is coming off a 4-0 loss to Nicaragua on Monday, June 13, 2022, the same day that Trinidad & Tobago last played when they knocked off St Vincent and the Grenadines 4-1 in Trinidad.
#Eve said the weather conditions here are similar to what they have in Trinidad & Tobago and even in Florida where they got in their final workout sessions before coming to the Bahamas, but he said they are looking forward to an exciting game.
#"It's going to be a little different from the last time we played," said Eve.
#"You will see a much younger team. We are now gelling, although we are in a rebuilding stage. We lost some of the players who were on the team last year, but this is a young team, but we're looking forward to doing very well."
#The team will feature a 28-year-old player who has never played for Trinidad & Tobago at any international competition, but with the majority of the players averaging around 24 years old, Eve said he's confident that they can make their presence felt.
#Against the Bahamas, Eve said he knows they will have to counteract their deep style of play. "They have two really good forwards, so we expect for them to come out and express themselves playing in front of their home crowd," Eve said. "So we are basically prepared to make the adjustment because we know that we are playing at home."
#After losing their first game in the Nations League, Trinidad & Tobago stormed back to win their next three and are now sitting in second place in the standings behind St Kitts & Nevis in Group F.
#The Bahamas is in fifth place, having lost three of the four matches played so far, drawing one.
#Eve said this is a must-win game for them because their goal is to qualify outright from the North America, Central American and Caribbean region for the Concacaf Gold Cup Commebol Copa America, the top men's football tournament contested among national teams from South America.
#To the natives of Trinidad & Tobago, who are residing in the Bahamas, Eve urged them to "come out and support your team from Trinidad. It's your team. So come out, watch us play."
#Following this match, the Bahamas will head to St Vincent and the Grenadines to play their next match at 3pn on Monday, March 27, while Trinidad & Tobago will go home to host Nicaragua at 8pm.
http://www.tribune242.com/news/2023/mar/24/trinidad-ready-face-bahamas/?news