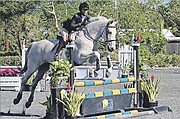 CARISA BROGDEN and Sterling Silver in the Bahamas Junior Classic.
#THE Bahamas' newest crop of budding junior equestrian athletes were on display in two days of fierce competition at the Mariposa Winter Horse Show, held last weekend at Mariposa Stables in western New Providence.
#The show marked the third leg of the equestrian horse show season, and dozens of junior riders met to test their skills in varying classes of competition.
#Classes ranged from the very beginner "Leadline" classes, featuring competitors as young as five years old, to more technically demanding classes in the Jumper and Equitation Divisions. Saturday featured the Equitation classes, which are judged on the elegance and effectiveness of the rider over a series of 'tests'.
#Carisa Brogden, aged 15, was the star of the day, riding Mrs Kim Johnson's Sterling Silver to win the qualifying class of the Bahamas Junior Classic. The Bahamas Junior Classic is a national event featuring the country's best junior riders. Qualifier rounds are held throughout the horse show season, and riders must amass 10 or more points in order to qualify for the Classic Final, which this year will be held in March.
#On Sunday the watching crowd cheered excitedly for the Jumper events, which are based on the ability of horse and rider to clear a course of jumps in the fastest time.
#"Jumper events, or showjumping, is the Olympic discipline that people may be used to seeing on television," commented Cathy Ramsingh-Pierre, president of Equestrian Bahamas. "Showjumping is easier for the spectator to follow, because the winner is the one who clears the course in the fastest time, and knocks down the fewest jumps.
#"In reality, however, a showjumping course is far more difficult to ride. Equitation classes, like the ones held on Saturday, serve as the technical preparation needed for young riders to compete in the Jumper ring. Equestrian Bahamas is committed not only to providing competitive opportunities through horse shows, but to developing technical excellence in the sport so that our riders can successfully compete abroad."
#In Sunday's Jumper classes, top honours were shared by Carisa Brogden, on Sterling Silver, and Siena Holowesko, riding Erika Adderley's Gandolfe. Brogden and Holowesko were co-champions in the Hopeful Jumpers Division. The guest judge of the event was Jill MacRae of Toronto, Ontario, Canada. MacRae is an accomplished rider, coach and judge, having trained horses and riders for many years.
#She was the team manager and leader for the Canadian Equestrian Team at major international competitions, including past Olympic, Pan Am and World Equestrian Games.
#MacRae was impressed by the level of riding on display, and at the close of the show encouraged all riders and their trainers to continue their efforts to excellence.
#The next competition on the Equestrian Bahamas calendar will be held at Camperdown Equestrian Centre February 11-12. Admission is free and all are invited.