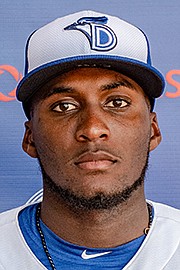 CHAVEZ YOUNG
#By RENALDO DORSETT
#Tribune Sports Reporter
#rdorsett@tribunemedia.net
#CHAVEZ Young and his Canberra Cavalry are two weeks away from opening day and will have a busy two months of gameplay after the Australian Baseball League released its revised schedule.
#The Toronto Blue Jays minor league prospect and his club will open the season December 18 for a four-game series on the road against Perth. They follow with a two-game series at home against Melbourne and conclude in December with a three-game series against Sydney.
#The ABL will see games played on 26 out of 31 days in January. Each team will play 24 regular-season games.
#Young is ranked No. 30 on the Blue Jays' prospect list, and joins a Cavalry club that has advanced to one championship series and three semifinal appearances in the last four seasons.
#Baseball Australia chief executive Cam Vale said the schedule set the stage for an exciting season and thanked fans for their patience.
#"The six teams and their key stakeholders have in the past week, despite the challenges thrown at us, shown why we are putting in the work to play – for the fans and for the future of the ABL, capitalising on the opportunities in front of us," Vale said.
#"The ABL teams have worked hard with us over the past week to ensure as minimal impact as possible on the previously released schedule and we appreciate the patience and understanding of both our teams and fans during the process. We've faced some hurdles along the way but we now have an exciting schedule which will deliver an action-packed January and thrilling race to the playoffs."
#The ABL is one of baseball's recognised winter leagues where minor league prospects are assigned as an English-speaking alternative to the primary Spanish-speaking Latin America-based winter leagues. This season for the ABL features two conferences (Australian and International) with the traditional 40 games condensed to a 24 game regular season.
#Seven former Cavalry players were members of MLB 60-person Taxi-squads last season. The club has active strategic partnerships with two MLB teams, the San Diego Padres and the Houston Astros. Partner teams have also included the Blue Jays, Cincinnati Reds and Atlanta Braves.