TEXAS forward Kai Jones (22), of The Bahamas, grabs a rebound over North Carolina forward Day'Ron Sharpe (11) in the first half of their NCAA college basketball game for the championship of the Maui Invitational yesterday in Asheville, N.C. (AP Photo/Kathy Kmonicek)
As of Thursday, December 3, 2020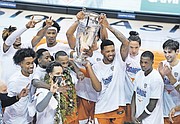 TEXAS celebrates and holds the trophy for the NCAA college championship game of the Maui Invitational after they beat North Carolina 69-67 yesterday in Asheville, N.C (AP Photos/Kathy Kmonicek)
#By RENALDO DORSETT
#Tribune Sports Reporter
#rdorsett@tribunemedia.net
#Kai Jones' perfect shooting streak from the field came to an end, but the sophomore forward scored four of Texas' final six points to lead them to a Camping World Maui Invitational Championship.
#Jones finished with 12 points on 4-5 shooting from the field and tied a career high with eight rebounds for the second time this season in the No.14 Longhorns' 69-67 win over the Tar Heels in the tournament finale last night at Harrah's Cherokee Center in Asheville, North Carolina.
#Matt Coleman hit a stepback jumper for the game winner with 0.1 seconds left to play, but Jones also made several critical plays down the stretch.
#The Longhorns trailed 65-63 when Jones made a jumper to tie the game at the 2:29 mark. He followed with a transition dunk two possessions later to give Texas the lead (67-65) with 38 seconds left to play.
#The Tar Heels evened the score with a pair of free throws from Leaky Black, setting the stage for Coleman's heroics.
#Texas improved to 4-0 and won their first Maui title in their fifth appearance in the tournament while the Tar Heels suffered their first loss of the season.
#With his third double digit scoring effort this season, Jones has already surpassed his total from his freshman season when he reached that mark just twice.
#Jones opened the Maui Invitational with 13 points on 4-4 shooting from the field, 2-2 from three-point range, in a 78-76 win over Davidson. He followed with just four points (2-2 field goals) and five rebounds in 13 foul-plagued minutes of a 66-44 win over the Indiana Hoosiers.
#In the Atlantic Sun Conference, Franco Miller Jr continues to see his production in his new role with the Florida Gulf Coast Eagles. Miller scored a career high 10 points and shot 3-7 from three-point range but his Eagles lost 76-57 to the South Florida Bulls.