Clarke Making The Transition To Collegiate Level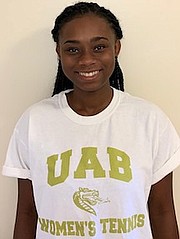 Sydney Clarke
#By BRENT STUBBS
#Senior Sports Reporter
#bstubbs@tribunemedia.net
#THE country's former top junior female tennis player Sydney Clarke is now making the transition to the collegiate level.
#The 18-year-old left town on August 10 and has now settled in her dormitory at the University of Alabama at Birmingham for her freshman year with the Blazers women's tennis team.
#"Everything is fine. I had to take a COVID-19 test before I could come on campus and to use the courts," Clarke said. "I started practicing with the team on Friday.
#"Once I took the test, I moved in and I went right on to the court to interact with my new team-mates. It was quite interesting, but everything is going fine right now."
#As a new venture for Clarke, who graduated from Windsor School on June 13, the experience has been all that the former CR Walker Secondary High student-athlete expected and more when she arrived on her new campus in Birmingham.
#"They have all the safety measures in place for COVID-19 and the members of the team, who have been here before, are doing all they can to assist us, who are coming in for the first time," said Clarke, who is one of three incoming freshmen on the team.
#Having dreamt about this opportunity since she signed her letter of intent, Clarke said she's excited to finally be in a position to accomplish her goal of attending college.
#"I think it's going to be more intense for me playing with a team like this for the first time," said Clarke, who has had some experience playing in a team atmosphere with the Bahamas Lawn Tennis Association's Fed Cup team.
#"So it's really going to be different when we start playing next year against different schools and just having a role on the team to help out. There's no role for me to be selfish, so I'm looking forward to making my contribution."
#Before she left home, Clarke said she got a chance to work on her game at the National Tennis Centre prior to the Bahamas Government putting a halt to all sporting activities due to the spread of the coronavirus.
#When that opportunity was taken away from her, Clarke said she was able to work out at home where she had the use of a wall to hit the balls as she worked on certain aspects of her game and stayed fit at the same time.
#"So it made a difference when I started working out with the team," pointed out Clarke, who has returning team-mates from Germany, Spain, Poland and Bulgaria. "We have about 10 weeks to practice before school closes in November and I got to return home."
#Appreciative of all the support she's gotten from her parents, Bernard and Shayvon Clarke, Clarke said she's eager to make them proud and to set the stage for her younger sister, Sarai, whom she has inspired to play tennis and is one of the top young players in the BLTA.
#"I miss them already, but I'm adjusting to being away from them," she said.
#"I know that whenever I get a chance, I will head back home. It's a big adjustment, but I'm keeping in contact with my family daily, so it's good."
#Should she get a chance to come home for Christmas, Clarke said she would like to play in the BLTA's Giorgio Baldacci National Tennis Tournament because she hasn't played in a competitive tournament since December.
#The Blazers' season doesn't officially get underway until January, so Clarke said it would be good to test her skills against some of the top female players at home before she gets prepared for the collegiate circuit.
#In the meantime, Clarke said she's trying to get prepared for her classes towards her degree in business and her experience on the court as a collegiate player.
#"They have things in place on campus to make sure that we are safe," Clarke said.
#"We have a lot of shops nearby so we don't have to venture too far from the campus, which is good. So I'm just taking the precautions to stay safe."