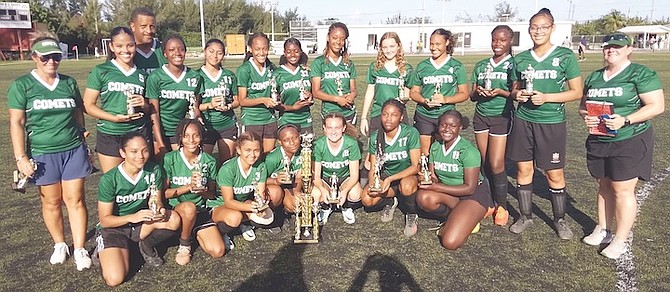 SOCCER CHAMPIONS: Queen's College Comets senior girls' championship soccer team.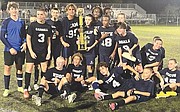 St Andrew's junior boys soccer champions.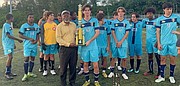 LYFORD Cay School senior boys' soccer champions.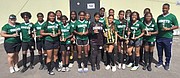 QUEEN'S College Comets junior girls soccer champions.
#By BRENT STUBBS
#Senior Sports Reporter
#bstubbs@tribunemedia.net
#THE Queen's College Comets left the Roscoe Davies Developmental Center at the Baillou Hills Sporting Complex yesterday as the junior and senior girls' champions of the Bahamas Association of Independent Secondary Schools Soccer Championships.
#In the senior and junior boys' divisions, the Lyford Cay Dragons and the St Andrew's Hurricanes split the pair of titles as they faced each other in two exciting matches that went right down to the wire.
#While Queen's College held off Windsor High 2-1 in their junior girls game, their senior girls out-scored Lyford Cay 6-0.
#In the senior boys match-up, Lyford Cay prevailed with a 2-1 decision over the St Andrew's Hurricanes, but the junior boys down to the penalty with St Andrew's getting the edge after they finished scoreless in regulation and overtime.
#• Here's a summary of the games played:
#Junior girls
#Queen's College 2, Windsor High 1: Afreen Fathima completed her two-year career by booting in a goal in both the first and second half to preserve the win for the Comets.
#"I felt proud of myself. I didn't expect to score more than one goal. So I'm really proud of myself and my team for helping me," said Fathima, who is in her second year on QC's team.
#"I feel great. We put a lot of work into this season and so I'm happy with our team. I will be moving up to senior (next year), but I hope we do the same thing."
#The Comets finished the year undefeated and Dion Peterson, one of their coaches, said it was a testament of the hard work they put in.
#"I think we performed very well. The girls worked hard all season. They did a lot of practice to perform for the season," Peterson said.
#"They controlled the game for the most part. We did a good job."
#Brinnyah Bynoe, a tennis player, stepped up and scored the lone goal for Windsor down the stretch of the second half as they ended their first appearance in the BAISS competition by getting on the scoreboard.
#"Just getting a goal was enough to put our team in a place where they felt more comfortable, " said Bynoe, a 15-year-old ninth grader.
#"Not having a goal and being down gave my team a sense that we were still in the game."
#Unfortunately, time expired before they could come up with the equaliser.
#Senior girls
#Queen's College 6, Lyford Cay 1: Captain Alexis Williamson, leading by example, struck for a pair of goals and they benefitted from another on Lyford Cay's own goal as the Comets took a 3-0 lead into the half and held on for the win in the second half.
#They added another pair of goals from Diane Maillis and one more from Mia Underwoods to seal the deal as their junior girls rocked the stands cheering for them.
#"I'm really proud of our team. We worked tirelessly from last October last year practicing two and sometimes three times a week," said Williamson, a 17-year-old 12tth grader. "We made sure we won every game. That was the mentality that we took into the league. We worked extremely hard to get this win."
#The Comets almost duplicated the efforts of their junior girls, but they only lost one game and that came during the regular season against Lyford Cay. Coach Deborah Humes said it was payback time in the final. "We knew that we had the team to win. These girls played so hard and worked hard for it," she said. "I am so proud of them and what they were able to accomplish." Sara Ilgenfritz, the coach of Lyford Cay, said although they had a very young team with players mainly in grade seven and eight, they gave a good account of themselves.
#"I think we played as well as we could under the circumstances," she said. "Queen's College had some very experienced players, but we have a lot more years ahead of us, so we hope to be back and hopefully the next time we can win it."
#Senior boys
#Dragons 2, Hurricanes 1: Michael Massie booted in the game winning penalty in the second half as Lyford Cay broke up a 1-1 tie at the end of the first half for the win. While Lyford Cay scored the first goal of the game, St Andrew's came right back and equalized it on Benjamin Luner's goal.
#Junior boys
#After full time and ten minutes of extra time, St Andrew's and Lyford were scoreless. It went down to penalty, but the Hurricanes emerged as the victors, hitting four of the five penalty shots to seal the deal after the goalie blocked two of the four penalties, so they didn't need to take their fifth.
#Owen Cates saved two of the three shots by Lyford Cay, although one got away from him.
http://www.tribune242.com/news/2023/apr/28/comets-dragons-hurricanes-are-baiss-soccer-champio/?news