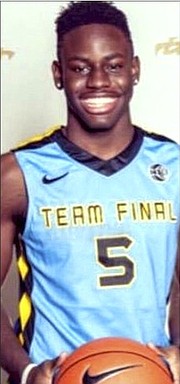 D'Andre Vilmar
#By RENALDO DORSETT
#Tribune Sports Reporter
#rdorsett@tribunemedia.net
#THIS summer will set the tone for Bahamian basketball star D'Andre Vilmar as he plans to announce his collegiate decision following a season of tournaments, showcases and national team play.
#Vilmar recently completed his junior season for the Roman Catholic High School Cahillites in Philadelphia, Pennsylvania, and said the attention now shifts to securing a scholarship offer over the course of the next few months.
#"I think I'm close to making a decision. I think I'm going to breakout in July. I've been in contact with a few schools but July is going to be where I really breakout and get looks from some high major schools," he said.
#"The off-season is a big thing and that's where you get most of your offers. AAU really started in the spring and for me that will continue in July when I'll be playing with Coach [Darell] Sears on the AAU circuit. After that most likely I'll be playing with the Bahamas national team in Panama at the CBCs.
#"But July will be busy in Atlanta, Louisiana and Las Vegas. The summer ball to me is more important. All the coaches come out and see you and you play in front of every coach you can think of. AAU ball is structured but you get to show your game more than you do in the regular season."
#The 6ft 4in guard and Abaco native helped his team capture the 2016 PIAA Class 4A title with a 73-62 win over the Allderdice Dragons.
#After their second consecutive state title, Roman Catholic will lose three starters to graduation, thrusting Vilmar into the spotlight and a leadership role for his senior season.
#"The journey was crazy because a lot of people doubted that we would even win it the first time, but when we won it back-to-back it was amazing," he said. "People don't understand all the hours and sacrifices you have to put in to win a state championship – practicing every day. You can't really have weekends to yourself you got to spend most of it with your team and travelling, and of course you have everyone trying to knock you down from that pedestal.
#"It's a hard thing to do to get it once, but back-to-back that rarely happens so it was a great thing for me to experience and it was a great thing for my team."
#Vilmar continues his improvement on the college recruitment circuit and is making his way toward the ESPN 60 rankings. Listed as a four-star recruit, he is now ranked fourth in the state and 27th nationally at his position.
#Vilmar has received one Division I scholarship offer so far, from the Colorado State Rams while other schools such as La Salle and Penn and Iona have all showed considerable interest.
#At the international level last summer, he was a part of the Bahamas team that finished fifth at the FIBA Centrobasket Under-17 Championship when led the tournament in scoring at 19.6 points per game and rebounding at 12.4 boards per game. He was also second in assists as he dished out 4.6 per game.
#"The first game I was bit nervous and I was messing up a lot. But coach Sears he left me out there and I made two baskets back-to-back and I gained confidence. After that I felt like nobody could really guard me and as the tournament went on I just kept getting better and better each game, I was able to produce and everybody starting relying on me.
#"When you're playing that role and everyone expects you to be the main guy it can be tough, but I think I responded well to it," he said. "When I got back to Roman I was less timid with the ball in my hands. Before, I was a real afraid to make plays but after I came back I was still on that high pedestal from playing in the FIBA.
#"That brought my confidence level up so I came in real confident in making plays. Its taught me about being under control in certain situations and not forcing the issue, knowing when to attack and when to get my teammates involved. I feel like I did a good job handling pressure and my shot selection was definitely better."
#Vilmar left Abaco in the sixth grade when he moved to live with his uncle in Delaware for a better opportunity at excelling in the sport.
#He credits his family's vision for the position he find himself in at the current moment.
#"It was in sixth grade, my mom sent me to live with my uncle in Delaware and he really showed me what it takes to get to the top. I went back home for a few months and my uncle was like 'We've got to get Dre back out here if he's going to make it out.'
#"Times were hard at that time but my mom saved and did whatever she could. She didn't pay the light bill or none of that, she used the money on my ticket and living situation," he said.
#"I was playing in Delaware for a couple years and then I got joined this AAU team, Team Final. My cousin was already there and when I started playing Roman saw me in seventh or eigth grade, I visited the school and made the decision to go. From there I left my uncle's house and went to live with my AAU coach in South Jersey so I could be closer to Philadelphia.
#"Everything was so different. They were more serious. In the Bahamas we just played games and thought we were getting better. But when I got to Delaware we were working out two to three times a day. It was a big adjustment at first but I caught on eventually."
#With Bahamian basketball players Buddy Hield and DeAndre Ayton garnering national attention, Vilmar said he expects to continue that momentum when he gets the opportunity.
#"I like the way that they have the spotlight on the Bahamian players like Buddy and DeAndre," he said. "I feel like I'm next up to be in that spotlight and I feel like I'm ready for it."