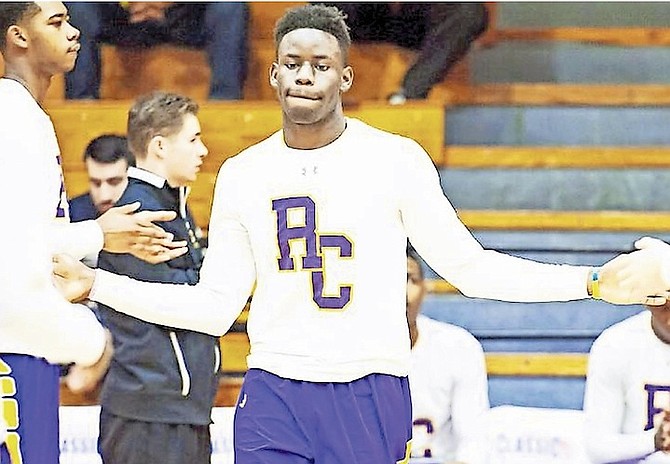 Elite Bahamian basketball prospect D'Andre Vilmar is expected to transfer to Paul VI High School in Haddonfield, New Jersey, for the upcoming fall semester.
As of Tuesday, December 13, 2016
#By RENALDO DORSETT
#Sports Reporter
#rdorsett@tribunemedia.net
#BASKETBALL prep superstar D'Andre Vilmar is expected to have an immediate impact with his new programme this fall as he heads into his senior year and final year of NCAA recruitment.
#The Philadephia Inquirer named Vilmar to the preseason All-South Jersey Second Team.
#The 6'4" senior guard is considered one of the top two-way players in the division and his Paul VI Eagles squad has also been ranked No.4 in the South Jersey Preseason top 25.
#"The Eagles will look to build on a strong finish to last season with a big boost from senior D'Andre Vilmar, a transfer from Roman Catholic," the Inquirer said.
#"Sophomore El Khana Hidalgo, a transfer from Life Center who will sit 30 days. Senior guards Justin Ryder and Keenan Wise are experienced perimeter players and senior forward John Calvello is an active presence in the paint."
#Last season, the Eagles finished 14-13 and lost in the first round of the New Jersey State Interscholastic Athletic Association state tournament.
#With major Division I offers in his sights, Vilmar decided to relocate for the final season of his high school career and transfer to Paul VI High School in Haddonfield, New Jersey for the upcoming fall semester.
#He joined the Eagles programme after spending the last two seasons with the Roman Catholic High School Cahillites in Philadelphia, Pennsylvania.
#"At Roman, our head coach retired, a lot of players left and it just wasn't going to feel the same," Vilmar said.
#"My host family I live with, their son is going to Paul VI with me, my parents think it's a good move, my aunt and I have been talking about it a whole lot, my AAU coach thinks it's a good fit so I'm ready. I feel like going to come there and with some new scenery.
#"I'm going to get to play my game and be more free to do the things I know I can do and the things everybody else in my circle knows I can do. It's going to be a great year and I feel like we can make a 'cinderella' run. We can really make some noise in south Jersey."
#With the Cahillites, the 6'4" guard and Abaco native helped his team capture their second consecutive PIAA Class 4A title.
#"I love Roman, I love the fans, I had great years there but I felt it was time for a change. I felt like this was something different and this was the right thing to do at this point," he said.
#"I don't feel like God would've opened this door if this wasn't where he wanted me to go. This really came out of nowhere. This wasn't something planned, he just opened this door and I feel like this is the right thing. I've been praying a lot about it and I just feel like this is what he wanted me to do."
#Earlier this month, Vilmar announced via Twitter that he has recently received offers from the Oklahoma, Long Beach State and Buffalo.
#In the offseason he participated with coach Darrell Sears' Jaguars at various tournaments, including the the Big Foot Hoops Las Vegas Classic presented by Hal Pastner in Las Vegas, Nevada, and the Texas Hoops Great American Shootout in Duncanville, Texas.
#Prior to the summer circuit, Vilmar received one Division I scholarship offer from the Colorado St Rams while other schools such as La Salle, Penn and Iona have all showed considerable interest.
#Vilmar left Abaco in the sixth grade when he moved to live with his family in Delaware for a better opportunity at excelling in the sport.