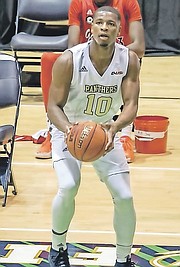 RADSHAD DAVIS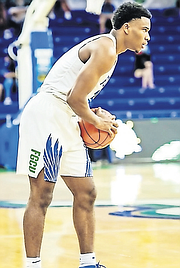 FRANCO MILLER JR
#By RENALDO DORSETT
#Tribune Sports Reporter
#rdorsett@tribunemedia.net
#RADSHAD Davis had the better individual performance and his FIU Panthers got back into the win column with a dominant performance against Franco Miller Jr and the Florida Gulf Coast University Eagles.
#Davis scored 12 of his 16 points in the first half and also added eight rebounds while Miller went scoreless in 13 minutes off the bench in the Panthers' 85-69 win over the Eagles last night in Ft Myers, Florida.
#With the victory, FIU moves to 5-1 this season, while the loss dropped FGCU to 3-2 on the year.
#After cancelled games against Jacksonville State (December 6) and North Florida (December 10), the Panthers suffered their first loss of the season, 80-77 to North Florida on December 12. The Panthers started the contest shooting 43.9% from the floor and 38.1% from beyond the arc while holding FGCU to shooting 31.4% from the field and just 28.6% from three.
#Davis is having a standout redshirt senior season averaging 14 points and a team leading 7.5 rebounds per game. He is shooting 49% from the floor, 39 from three-point range and a perfect 10-10 from the line. It was Miller's first scoreless game of the season and in his first year with the programme, the redshirt sophomore guard is averaging 6.4 points and 2.3 rebounds per game.
#In his season low total of minutes played this season, Eagles head coach Michael Fly said the entire team struggled on the night.
#"I'm disappointed in our effort tonight to be frank," Fry said.
#"We talked about not having a let down. I don't think we had a sense of urgency tonight which is counter to how we've been playing. We're certainly frustrated by how we played but there is the positive that we have a quick turnaround with practice tomorrow and another game Friday night." The loss began a five-game home stand for the Eagles which continues with matchups against Webber International, Georgia Southern and North Alabama.