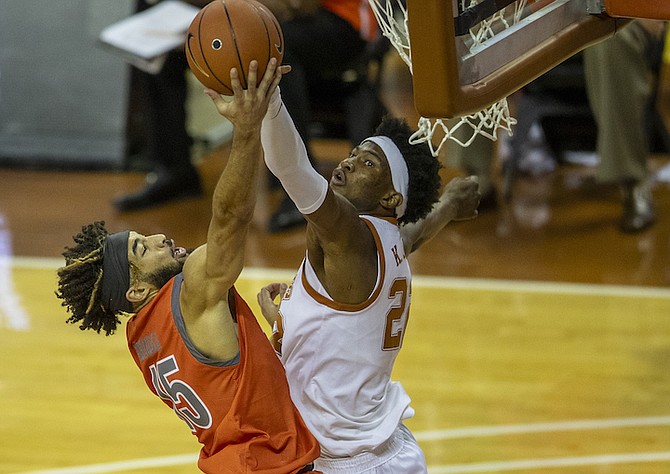 Texas forward Kai Jones, right, blocks Texas-Rio Grande Valley's Uche Dibiamaka during the second half of an NCAA college basketball game Wednesday Nov. 25, 2020, in Austin, Texas. (Ricardo B. Brazziell/Austin American-Statesman via AP)
#By RENALDO DORSETT
#Tribune Sports Reporter
#rdorsett@tribunemedia.net
#Kai Jones had a perfect season debut while Franco Miller Jr and Radshad Davis shined in their new surroundings in wins for their respective programmes on the opening night of NCAA Division I basketball.
#Jones was 6-6 from the field, 2-2 from the free throw line and scored 14 points for his No.19 ranked Texas Longhorns in their 91-55 win over the Texas Rio Grande Valley Vaqueros last night at the Frank Erwin Center in Austin, Texas.
#He also grabbed eight rebounds to equal his career high from his freshman season.
#The Longhorns have been projected to finish No.4 in the Big 12, according to the league's coaches' poll.
#Texas concluded last season 19-12 – 9-9 in the Big 12.
#Along with Jones, they return virtually every rotation player from a season ago and welcomed five star prospect Greg Brown to a loaded frontcourt.
#Miller scored nine points in his debut with the Florida Gulf Coast Eagles, a 65-56 win over the Florida A & M Rattlers at the Alico Arena in Fort Myers, Florida.
#The sophomore guard shot 4-7 from the field and added three rebounds with one assist in just 19 minutes. Miller was granted an NCAA waiver for immediate eligibility following his transfer from Ole Miss to FGCU in June.
#Davis also had an immediate impact in his first game with the FIU Panthers. He finished with 15 points and 7 rebounds in the Panthers' 85-81 win over the Flagler Saints at the Ocean Bank COnvocation Center in Miami, Florida.
#In the final season of his collegiate basketball career, Davis opted to transfer to FIU from the Texas-Arlington Mavericks following a two-year stint in the Sun Belt Conference.
#In addition, for head coach Yolett McPhee-McCuin, senior guard Valerie Nesbitt and the Ole Miss Rebels women's team – their season was cancelled due to positive COVID-19 tests among the Northwestern State programme.
#Ole Miss is now scheduled to open its season against McNeese State at 7pm local time next Monday – November 30 – at home in the Pavilion in Oxford, Mississippi.