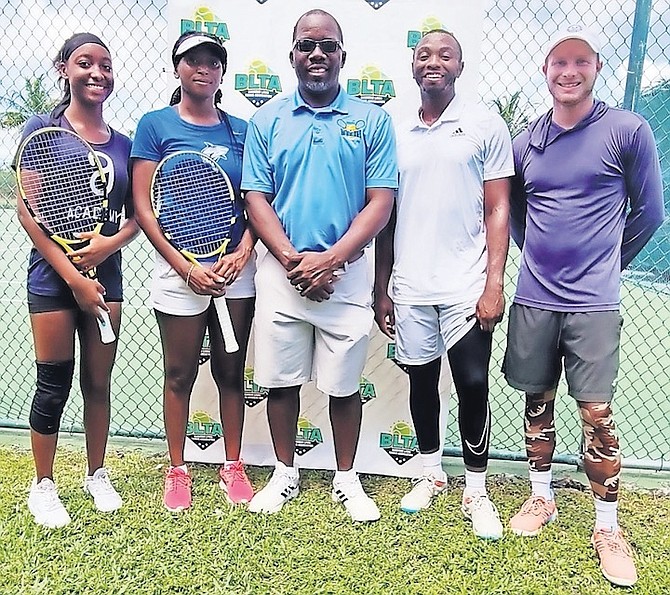 FROM left, Sierra Rodgers, Simone Pratt, Perry Newton, Kevin Major Jr and Baker Newman.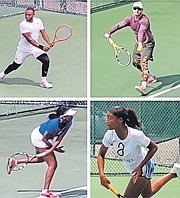 KEVIN, Baker, Simone and Sierra in action.
#A SUPERB weekend of competition has resulted in Kevin Major Jr and Baker Newman qualifying for the final two spots on the Davis Cup and Simone Pratt and Sierra Rodgers qualifying for the final two spots for the Billie Jean King (BJK) Cup.
#From a field of eight men and seven women consisting of former Davis and BJK Cup players along with top tennis juniors, a wonderful display of talent was showcased at The National Tennis Centre. Kevin and Baker will join Spencer Newman (National Champion) and Marvin Rolle who qualified at The Giorgio Baldacci Open Nationals.
#Pratt and Rodgers join Sydney Clarke (National Champion) and Elana Mackey who also qualified at the Bahamas Lawn Tennis Association (BLTA) Nationals in December.
#On the final day of competition at the BLTA trials, Simone Pratt won over Sierra Rodgers 6-1,6-2 and Kevin Major won over Baker Newman 7-5,6-1. Kevin and Baker are former Davis Cup members and Simone Pratt is also a former BJK Cup player. This will be a first-time appearance for Sierra Rodgers who turned 16 recently.
#President Perry Newton congratulated the four persons (Simone, Sierra, Kevin and Baker) who qualified for Team Bahamas and welcomed them to the 2022 Bahamas BJK and Davis Cup teams. He said: "It is indeed an honor to represent the country at this high level of competition."
#The Davis Cup is the premier international team event in men's tennis. It is described by organisers as the World Cup of Tennis and is contested annually between teams from competing countries. Similarly, the Billie Jean Cup formerly the Fed Cup is the premier international team competition in women's tennis, the competition was launched in 1963 and features over 100 countries annually.
#The stage is set, and the Davis Cup Group III Americas Competition will take place in Escazu, Costa Rica June 22nd-25th 2022 at the Costa Rica Country Club on hard courts. Countries competing are The Bahamas, Costa Rica, Guatemala, Jamaica, Panama, Paraguay, Puerto Rico and Venezuela.
#Three teams will be promoted to the World Group II Play-offs and two teams will be relegated to Americas Group IV.
#The 2022 BJK Cup Group II Americas will take place at the Centro Nacional De Tenis Parque Del Este In Santo Domingo, Dominican Republic. The surface venue is also hard court.