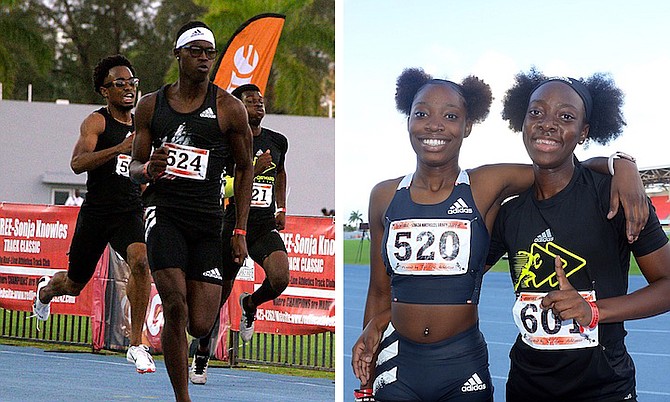 ANTOINE ANDREWS, Lacarthea Cooper and Paige Archer have all qualified for the World Athletics' Under-20 Championships. Photos: Christopher Saunders
Photo Gallery
Oak Tree Sonja Knowles Track Classic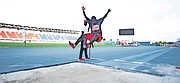 Photos: Moise Amisial
#By BRENT STUBBS
#Senior Sports Reporter
#bstubbs@tribunemedia.net
#SPRINTERS Antoine Andrews, Paige Archer and Lacarthea Cooper were the latest athletes to qualify for the World Athletics' Under-20 Championships scheduled for Cali, Colombia from August 1-6.
#The trio all attained the qualifying standards in the 200 metres during Sunday's final day of the two-day Oak Tree Sonja Knowles Track Classic, hosted by the Red-Line Athletics at the Thomas A. Robinson Track and Field Stadium.
#Andrews, representing the Bahamas Speed Dynamics, clocked 20.96 seconds to surpass the under-20 boys 200m qualifying standard of 21.40. His teammate Adam Musgrove fell short of the standard with his second place time of 21.48. Fast Forward's Keanu Ferguson was third in 21.80.
#"I'm grateful. Through all of the trials and tribulations that I went through, I did it. My principal always told me to keep the faith," said Andrews, a 19-year-old 12th grader at St John's College.
#It's the second consecutive year that Andrews qualified for the championships. Last year, he did it in the 110m hurdles
#"I'm just going to train hard and keep myself mentally and physically ready for the championship," Andrew said.
#In the under-20 girls 200m, Paige Archer took the title for Fast Forward in 23.96, holding of Lacarthea Cooper of Red-Line Athletics, who got second in 24.27. In the process, the duo surpassed the World Junior's qualifying standard of 24.40. T-Bird Flyers' Melvinique Gibson fell short in third in 25.31.
#"I'm extremely happy with the results. This meet was for me to test my fitness, so I give God all praise and honor," said Archer, a student of Queen's College. "My goal is to run faster at the Junior Nationals and then get ready for the World Juniors."
#Archer, however, said she needed the competition from Cooper and that was what pushed her as she came off the bench and took control of the race on the home stretch.
#"I was waiting for this type of competition," stated Archer, who on Saturday claimed the 100m title in 11.94 ahead of Asya Stanislaus of the Bahamas Speed Dynamics in 12.14 with Swift Athletics' Sherinique Sears third in 12.68.
#For Cooper, it was a relief to get back to the level she was before she suffered an injury that prevented her from competing at the Carifta Games in April in Jamaica.
#"It feels great. I was waiting for this moment. I knew that when I come back I was going to run fast," said Cooper, a 12th grader at St Augustine's College. "I qualified for the events that I wanted to qualify for. I did it in the 200m. The 400m is my next move."
#Now that she's proven that she's back, Cooper said she can continue her training towards being a medal potential at the World Juniors.
#Already qualified for the championships is strongman Keyshawn Strachan. The world's top ranked competitor in the under- 20 boys javelin, won his specialty with a heave of 75.35m. The qualifying standard is 69.00m.
#"It wasn't how I expected, but I will take it," said Strachan, whose ultimate goal at the championship is to erase the world junior record of 86.48m that was established by Neeraj Chopra of India at the 2016 World Juniors' in Bydgoszoz, Poland. "I can't wait to get there and do my thing."
#Although it wasn't a qualifier for any international meet, Nia Wright of Ted-Line-Athletics won the under-17 girls 200m in 25.6 over Jamiah Nabbie, unattached Thompson, who did 25.37 for second. Bayli Major, also of Red- Line Athletics, took third in 26.01.
#"It really wasn't what I expected, but I'm glad that I won it, considering that I just came off an injury," said Wright, a 15-year-old 10th grader at St Augustine's College. "It was goof. I think I performed exceptionally well."
#Tumani Skinner, also of the Red-Line Athletics and another SAC student, doubled up as the under-17 boys' 400m champion on Saturday in 49.,77 over Fast Forward's Berkley Munnings, who did 50.15 and SAC and Red-Line's Quinton Rolle, who was third in 52.11.
#Skinner, admitting that he wasn't at full strength because of the flu, managed to pull of the 200m on Sunday in 22..20 with 100m champion Ishmael Rolle of Swift Athletics taking second in 22.54. Caldon Whyms of Core Athletics was third in 23.02.
#"The double feels great. I want to thank God. I had the fever. But I just went out there and did my best," Skinner said. "I did what my coach (Tito Moss) told me and I left it all up to God. I knew the competition was going to be tough.
#"I had the 100m champion, who was a fierce competitor. All respect to him. At 13, he was tough to beat. He is bad . I expect some great things from him in the future. Today was just my day."
#In a couple other performances of note, Javonya Valcourt of Fast Forward took the under-20 girls 400m in 57.29.
#"I wasn't pleased with my time, so I'm still glad I finished my race injury-free," said Valcourt. Who just graduated from Mt Verde Academy in Florida, but haven't decided on what college I will be attending yet. "I think there was a lot of wind pout there, especially on the back stretch."
#Red-Line Athletics' Shimar Bain took advantage of the wind to easily win the under-20 boys 400m in 49.02, followed by a pair of his teammates with Jaydin Plakaris second in 49.55 and Jamal Flowers third in 49.94.
#"It was great. I had the mindset to go out there and the best of my ability. I followed my race plan, which was to get out off the blocks and finished strong," Bain said. "I wouldn't have been able to do it without the help of God, my famjly and my coach and teammates.
#"The competition was there. I was hoping for that all season long and I finally got it."
#There were a number of other performances produced during the two-day meet, which according to Red-Line's head coach Tito Moss, was the biggest to be held in New Providence this year with close to 700 competitors entered.