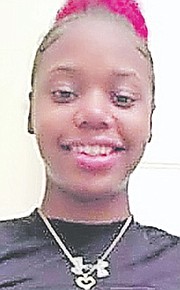 DENISHA Cartwright
#By RENALDO DORSETT
#Tribune Sports Reporter
#rdorsett@tribunemedia.net
#MINNESOTA State Mavericks sprinter Denisha Cartwright has been honoured by the US Track and Field and Cross Country Coaches Association for her stellar outdoor season.
#Cartwright was named the USTFCCCA Women's Track Athlete of the Year yesterday when the organisation announced its annual rewards.
#Cartwright recently led the Mavericks women's team to a third place finish and added a 100m hurdles national championship title at the NCAA Division II Outdoor Championships.
#She topped the field in 13.35 seconds to become the first Maverick to win a national title in the event in programme history. After a bronze medal finish in the 2021 championships, Cartwright returned to improve on that performance with a gold medal and one of three First Team All-American honours in 2022.
#She also earned All- America Honours in the 100m, 200m and as a member of the 4x100m relay team.
#Cartwright teamed up with Makayla Jackson, Ja'Cey Simmons, and Rose Cramer to finish first in the 4x100m relay with a time of 44.29, another first in Maverick history.
#A busy meet for Cartwright also included a fourth place finish in the 200m (23.55) and seventh place finish in the 100m (11.94) to earn another pair of First Team All-American Honours.
#The Mavericks scored 57 points to finish third in the team standings, the best team finish in programme history.
#At the conference level, she was named the Northern Sun Intercollegiate Conference Outdoor Track Athlete of the Year.
#Cartwright won four All- NSIC honours at the NSIC Championships last month, including first place finishes in the 100m hurdles and the 4×100 relay events.
#Over the course of the season she was named the NSIC Track Athlete of the Week four times.
#In her debut season with the Mavericks, Cartwright was named the NSIC Outdoor Track & Field Newcomer of the Year in 2021.
#Her Maverick outdoor campaign included first team All-American honours in four events at the Division II Championships.
#She finished third in the 100m hurdles, seventh in the 200m, eighth in the 100m and was a member of the second-place finishing 4x100m relay team.
#At the Conference level, Cartwright was the NSIC champion in the 100m hurdles and also won all-conference honours in the 100m and 200m.
#Prior to Minnesota State, Cartwright was a member of the Central State Marauders in her true freshman season.
#She was named to the USTFCCCA South Region Athlete of the Year and was scheduled to become the first CSU women to compete in multiple events at the NCAA Div. II Indoor Championships in March 2020 prior to the event being cancelled due to the public health threat of COVID-19.