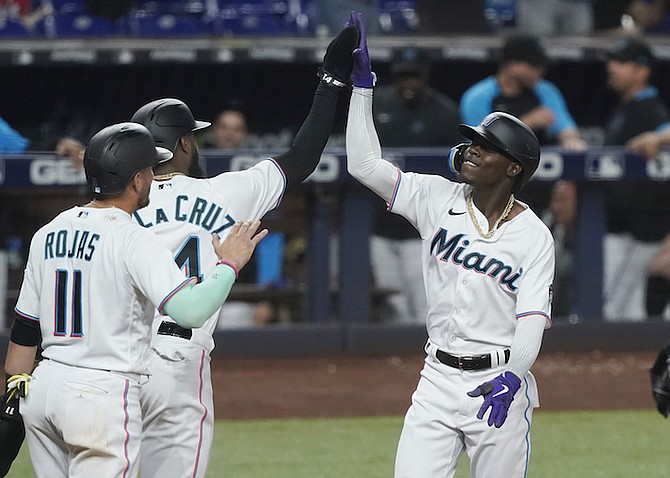 MIAMI Marlins' Miguel Rojas (11) and Bryan De La Cruz (14) congratulate Jazz Chisholm Jr. after Chisholm hit a grand slam in the second inning against the Washington Nationals Tuesday. (AP Photos/Marta Lavandier)
#By RENALDO DORSETT
#Tribune Sports Reporter
#rdorsett@tribunemedia.net
#JASRADO "Jazz" Chisholm Jr broke out of his recent slump with an electrifying performance and continues to build his résumé toward a 2022 National League All-Star berth.
#The Miami Marlins star had two home runs, including his first grand slam and a career high six RBI to power the Marlins' 12-2 win over the Washington Nationals Tuesday night at loanDepot Park in Miami, Florida.
#He joined Jorge Soler as the only Marlins players with multi home-run games this season.
#Chisholm entered the game 2-29 at the plate since his return from a hamstring injury on May 29, but dominated Tuesday night's contest.
#In the second inning, Chisholm faced a 3-0 count from Nationals pitcher Joan Adon with the bases loaded and connected on a four-seam fastball outside the strike zone and sent it over the centrefield wall for his first career grand slam.
#"My first at bat I honestly wasn't about to swing because he's not really in the zone as much. Honestly it was a ball, I saw it and it looked good to me so I just went and swung at it and it resulted in a homer. First career grand slam."
#According to ESPN Stats and Into, he became the first player in Marlins history to hit a grand slam on a 3-0 count. He is now on pace for 30 home-runs which no Marlins middle infielder has done since Dan Uggla (2010).
#Marlins manager Don Mattingly said Chisholm and the remainder of the lineup generally has the freedom to swing with the favourable 3-0 count.
#"Honestly it's always on their own, unless I don't want them swinging, so then it's more of a take off," he said. "There it's easy to say don't do it but on the other side of that coin we can break this game wide open and that's really what happened there.
#"Some guys don't like to swing there but obviously that was one he must have felt good about."
#Chisholm returned in the fifth inning and blasted a two-run shot off Andres Machado to give Miami a 12-0 lead. He attributed his recent struggles to become reacclimated to his pre-injury timing and routines.
#"That's just getting your timing back, getting the feeling back. It's like not playing for months and getting back into spring training.
#"With this it was going from playing everyday and then you go into seven days of not playing, you just got to try to revamp what you had going on, I'm just trying to get back to that and [Tuesday night] it felt better. This entire week it felt better than the past week."
#Offensively, the Marlins hit four home runs, but Chisholm celebrated the performance on the mound from Edward Cabrera, the no.47 prospect in MLB Pipeline.
#He was the first Marlins prospect to pitch at least six innings and allow two hits or fewer in each of his first two starts of a season.
#"That's my boy," he said. "Edward, he goes out there, he works hard, he wants to win everyday and shout out to him because he comes out everyday and gives his all. I have a lot of respect for Edward."
#The Marlins offensive outburst reportedly came after a 90-minute "players only" meeting.
#"We're good," he said. "We just came out there and knew what we had to do, and that's all I can say about that."
#Through 43 games this season, Chisholm is second on the Marlins with 10 home runs and is hitting .255 with a .310 OBP, slugging .541 with an .851 OPS, seven doubles, four triples, 37 RBI, 40 hits and nine stolen bases.
#Voting for the 2022 Major League Baseball All-Star Game is now underway. Ballots can be cast on MLB. com and cast your ballot, up to five times a day every 24 hours.
#The first phase of the voting runs through June 30 at 2pm. Then, there will be two finalists announced at each position (six outfielders) and the vote totals reset for the final days of voting July 5-8.