As of Monday, September 12, 2022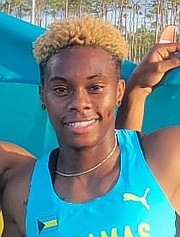 Devynne Charlton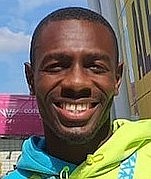 LaQuan Nairn
#By BRENT STUBBS
#Senior Sports Reporter
#bstubbs@tribunemedia.net
#Devynne Charlton brought the curtain down on her most successful season as a professional yesterday with a second-place finish in the women's 100 metre hurdles at the Memorial Borisa Hanzekovica in Zagreb, Croatia.
#The Bahamas' national record holder was one of two Bahamians participating in the event. The other was Commonwealth Games champion LaQuan Nairn, who had to settle for sixth place in the men's long jump with his best leap of 25-feet, 8-inches or 7.82 metres on his third attempt.
#Winning the event that was staged on Thursday was Australia's Henry Frayne with 26-7 1/3 (8.11m) on his third attempt as well.
#Croatia's duo of Filip Pravdica 26-6 ½ (8.03m) and Marko Ceko 26-3 (8.00m) got second and third respectively.
#Finishing fourth was Tajay Gayle of Jamaica with 26-2 ¾ (7.99m) and just ahead of Nairn in fifth place was Radek Juska of the Czech Republic with 26-1 (7.95m).
#On the track, Charlton couldn't catch American Tonea Marshall, who took the victory in the 10 flights of hurdles on the 100m straightaway in 12.74.
#Charlton trailed in 12.86 to take second ahead of Jamaica's Olympic bronze medallist Megan Tapper, who did 13.03 for third.
#"It probably wasn't a good race for me at all. My execution was poor and the conditions wasn't that great at all," said Charlton, whose parents Laura and David Charlton were in the stands cheering her on in Zagreb.
#"I'm just glad that I came out it healthy, but I felt I could have done a whole lot better. That's all I had this time around, but to come out it with a second place in my final race for the year wasn't that bad at all."
#While starting her season with a silver medal at the World Indoor Championships in March, Charlton went on to capture a silver medal at the Commonwealth Games and a bronze at the North American, Central American and Caribbean Championships where she also ran on the silver medal winning women's 4 x 100m relay team.
#"Overall it was a good season. I had five major championships, including World Indoors, and I was a finalist in all of them," said Charlton, who also placed seventh at the World Championships last month.
#"This was definitely the most outstanding season that I've had in the four years I've been a pro."
#"I just want to thank all of the people who believed in me and stuck with me and guided me through it."
#Heading the list were her parents, Laura and David Charlton, who travelled with her to a number of the Wanda Diamond League meets, the World Indoors, World Championships, Commonwealth Games, NACAC and a number of Wanda Diamond League meets.
#With the season now completed for her, Charlton said she will enjoy a steak at dinner with her parents as she takes some time off to recuperate from the vigorous season and begin her preparation for next year with her Bahamian coach Rolando 'Lonnie' Greene at the University of Kentucky. She thanked her parents, her family, coaches, training partners, the University of Kentucky Athletic facilities for allowing her to use the facilities and Greene from his duties as the head coach, her Bahamian agent Dominic Demeritte and her team at Hawi Management, the Bahamas Government and the Bahamas Olympic Committee.
#Charlton, 26, said they all helped to form the village that enabled her to perform as well as she did this year. She's hoping that her success will carry over to next year when she attempts to lower her national record of 12.46 and return to the podium on the global stage.
http://www.tribune242.com/news/2022/sep/12/devynne-charlton-2nd-nairn-6th/?news