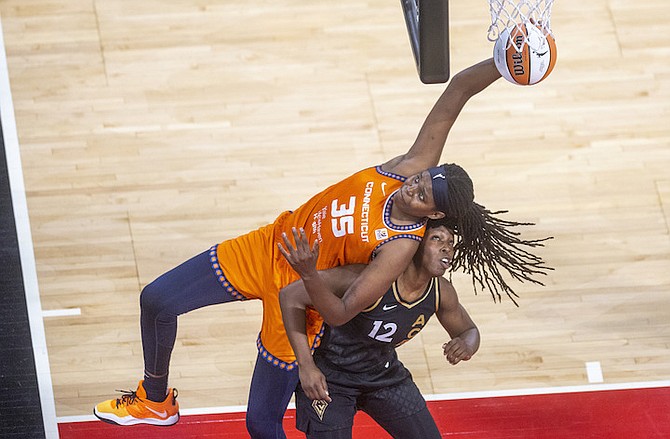 Connecticut Sun forward Jonquel Jones (35) battles for the ball over Las Vegas Aces guard Chelsea Gray (12) during the first half in Game 1 of a WNBA basketball final playoff series Sunday, in Las Vegas. (AP Photo/L.E. Baskow)
As of Monday, September 12, 2022
#By RENALDO DORSETT
#Tribune Sports Reporter
#rdorsett@tribunemedia.net
#JONQUEL Jones and the Connecticut Sun nearly overcame another fourth-quarter deficit but their late rally fell just short in game one of the WNBA Finals.
#Jones finished with 15 points and nine rebounds, but the Las Vegas Aces took an early advantage in the best-of-five series with a 67-64 win yesterday at Michelob Ultra Arena in Las Vegas, Nevada.
#Jones shot 7-15 from the field in 30 minutes.
#"Ultimately I'm happy with the game that we played and we gave ourselves a good opportunity to come out there with a win, and it just didn't go our way. But we are excited about game two," Jones said in her postgame availability. "I think it was just, you know, it was just basketball. We were shooting shots and they weren't going in. But ultimately we were playing great defence as well and that's one of the things I talked about, finding the wins within the game. Yes, we weren't hitting the shots we know we can hit but we were also playing good D. Ultimately, we'll be all right."
#The Aces will also host game two at 9pm on September 13, broadcast live on ESPN. The series shifts to Connecticut for games three (September 15 at 9pm on ESPN) and four if necessary (September 18 at 4pm on ESPN). A fifth and deciding game would be hosted by the Aces at the MGM Grand Garden Arena on September 20.
#Jones looked ahead to the process of managing her body in preparation for the workload and quick turnaround based on the schedule of the series.
#"I like the playoff format. The championship format is a little different. The games are kind of quick. I feel like in our series against Dallas, we had at least two days in between so you had time to really recover and rest. I'm looking at the Finals schedule and it's like, play one day, play again. So, it's a little different, but you know it's for the trophy, so you just got to suck it up and get it done," she said.
#"I think a good night's sleep after the game and making sure I'm stretching directly after. Any type of recovery that will help me recover..you're working an entire season, so you just want to go out there and put your best foot forward and be locked in."
#Las Vegas finished with the best record in the league at 26-10 and also claimed the Commissioner's Cup. The Sun finished the season 25-11 for the third-best record.
#Las Vegas had the advantage in the regular season with wins in two of the three matchups.
#Jones added that the Sun will have to find ways to limit the balanced scoring attack of the Aces.
#"For us as a team, it's just their firepower. They have so many people that can score the ball.
#"From A'ja (Wilson), Chelsea (Gray), Riquna (Williams), and Jackie (Young) scoring on different levels as well," she said.
#"I think the biggest challenge for us is making sure we're locked in on defence, getting them to slow down and not giving them easy buckets in transition with our turnovers and stuff like that."
#Wilson finished with a game high 24 points and 11 rebounds, Gray scored 21 and Young added 11.
#Jones averaged 13 points, 8.2 rebounds, and 1.4 blocks per game in the 3-2 semifinal win over the defending champion Chicago Sky.
#In the opening round, she averaged 16.7 points and nine rebounds per game against the Dallas Wings.
http://www.tribune242.com/news/2022/sep/12/jones-and-sun-lose-wnba-finals-opener/?news