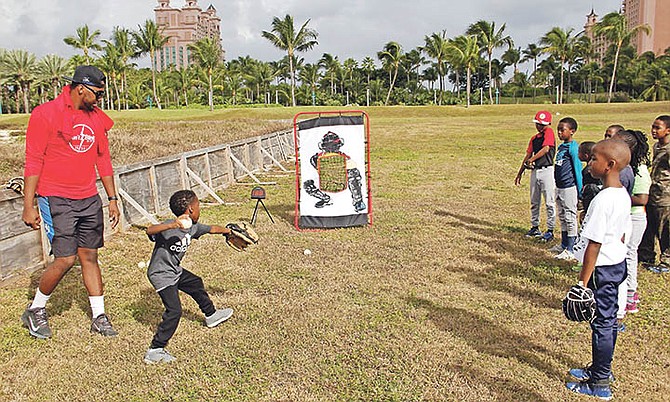 #By RENALDO DORSETT
#Tribune Sports Reporter
#rdorsett@tribunemedia.net
#THE Don't Blink Home Run Derby in Paradise weekend featured a kids' clinic for aspiring players. Scores of participants turned out to the field at the Atlantis resort on Paradise Island on Friday, featuring players aged seven and older.
#Event organisers Todd Isaacs Jr and Lucius Fox Jr were joined by other local minor leaguers, including Warren Saunders (New York Mets), Larry Alcime Jr (Pittsburgh Pirates), Anfernee Seymour (Miami Marlins), Chavez Young (Toronto Blue Jays), Trent Deveaux (Los Angeles Angels), D'Shawn Knowles (Los Angeles Angels), D'Vaughn Knowles (New York Yankees), Orveo Saint (Milwaukee Brewers), Kristian Robinson (Arizona Diamondbacks), Jazz Chisholm (Arizona Diamondbacks), Dominic Collie (Arizona Diamondbacks), Keithron Moss (Texas Rangers), Reshard Munroe (Cincinnati Reds), Courtney Smith (Texas Rangers) and Chavez Fernander (Detroit Tigers).
#International prospects included major leaguers – Lewis Brinson (Miami Marlins) and Touki Toussaint, home run derby champion Bo Bichette (Toronto Blue Jays), Triston McKenzie (Cleveland Indians), Shed Long (Cincinnati Reds), Nolan Jones (Cleveland Indians), Nate Lowe (Tampa Bay Rays), Will Benson (Cleveland Indians), Josh Lowe (Tampa Bay Rays), Monte Harrison (Miami Marlins), and Tyler Frank (Tampa Bay Rays).
#"We always want to make sure we do something for the kids, last year we had the camp earlier in December, but with the growing number of participants in the derby, our friends from the US and different islands in the Bahamas, we just wanted to make an entire weekend event.
#"We're excited about the turnout, we're excited about the future of baseball in the Bahamas. We will just keep pushing and breaking down barriers," Fox said.
#"It's a blessing, since we were kids we looked up to major leaguers, but actually having major leaguers for the kids now is amazing. They have people they can replicate their game. They see them on YouTube, they watch them on TV but to actually have them face to face and be able to learn from them is a blessing."
#Isaacs said the event gave the players an opportunity to give back to the community and interact with the young group of players. "This will plant seeds that they will remember for the rest of their lives, one day they will be in our position doing this for the next generation," Isaacs said.
#"We have some guys that Lucius and I looked up to when we were in high school. Lewis Brinson was one of the first people to introduce us to what that path to bro ball was about and for the first time we learned about seeing pro scouts at a high school game, so to have him a part of the event is special to us so he was a guy that we looked up to and look up to. Baseball is going to happen in the Bahamas in a big way in a few years, the number of pro players in the minors and majors is going to be incredible."
#Clinic participants were drilled at various skill positions, including hitting, fielding, pitching and baserunning.
#The group of players considered hosting the events as a collective that helps each other as a support system both on and off the field with the goal of Bahamian baseball development in mind.
#"This game is not something that will come easy because they regard most Bahamian players as something very new or fresh. We have to keep the pedal to the floor and keep going. We all look out for each other, we all help each other and it goes a long way over the course of the season and the numbers will continue to grow over the course of a number of years," Isaacs said, It's a blessing to be able to do this. Having a good support system is important, battling through injuries, battling through times where it was going to happwn. It takes a lot of patience to get to where we are at. It takes time, it takes a lot of learning experiences to get to the point of success."
#Fox credited the growth of local leagues and the recent success of international signees for the continued expansion of the game.
#"The international signing period played a big role in how the game of baseball is viewed at home and seeing how quick lives are changing. Many 16-year-old kids are getting the opportunity of lifetime. Before, we had to go to high school or colleges in the US to have scouts look at them, and now they're looking directly to the Bahamas for talent, and we do have so much talent. There were so many great players back in the day that didn't have the opportunity so we're thankful. We have to cultivate that talent."