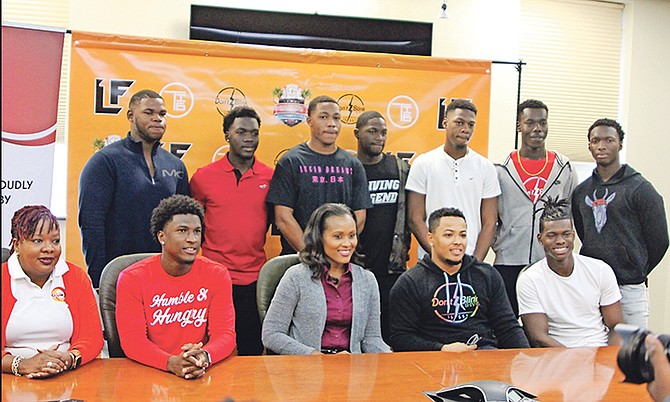 ORGANISERS and the Bahamas' top pro baseball prospects will compete for the title of Home Run Derby King when the big event is held at the Montagu foreshore, starting at noon on January 5.
#By RENALDO DORSETT
#Tribune Sports Reporter
#rdorsett@tribunemedia.net
#FOR the third consecutive year, the country's top pro baseball prospects will host another showcase of local and international talent, vying for the title of the Bahamian Home Run Derby King.
#The Don't Blink/Charles Johnson Foundation Home Run Derby, powered by REV, takes place noon January 5, 2020 at the Montagu Foreshore, featuring approximately 30 participants in the unique showcase.
#The project is the brainchild of Todd Isaacs Jr (Colorado Rockies organisation) and Lucius Fox Jr (Tampa Bay Rays organisation) respectively.
#"Don't Blink weekend is going to be something special. It's something we are super excited for," Isaacs said. "This year we are fortunate to be partnering with the Charles Johnson Foundation to help our reach get out to the world. The important thing we loved about his philosophy is that he wants to invest in the youth, invest in the future and that's the biggest thing for us just giving the young men in society something positive to look up to and something that can change their lives. Baseball is an avenue that allows kids to change their families' lives as young as 16. We play in front of thousands of people every day but there's nothing like performing in front of the home crowd."
#Johnson had a major league career that spanned 11 years across six franchises, most notably the Miami Marlins. The former World Series champion, two-time All-Star and four-time Gold Glove winner now spearheads a foundation to increase opportunities for youth through the sport.
#Proceeds from the event will benefit the Cancer Society of the Bahamas, the Sister Sister Breast Cancer Support Group and the Hurricane Dorian Relief Effort.
#"In year's past we have had a theme for the home run derby and this year the theme will be Bahamas Strong. In the aftermath of Hurricane Dorian, we felt it was important not just to help our brothers and sisters that suffer through cancer but also to help the Hurricane Dorian victims as best we can. This year the teams will support the Cancer Society of the Bahamas, the Sister Sister Breast Cancer Support Group and hurricane relief as the other team. The guys will compete as best as they can to win for their respective charity. All of us were in season with the hurricane hit, and some of these guys are from Freeport. So I couldn't imagine sitting in the locker room, having to worry about what's going on with your family. We just want to use our platform in whatever way we can to make a difference."
#As with last year's event, the roster for this year's event will be divided into teams headlined by Fox and Isaacs, competing for their respective charitable organisations.
#Following the team format, the top four individual hitters from each team will advance to see who will be crowned the Bahamian home run king.
#"We realise the funds were thin this year because of Hurricane Dorian and we understand. We're just thankful to REV for sticking with us and all the sponsors that have been with us since year one, and even guys that came on board with us this year just for allocating some money for us. We try to do this every year but without you guys, we cannot pull this off. This is a big event that a lot of people in minor league baseball look forward to and we can't stress enough how much this event is getting," Fox said. "We look forward to building this event bigger and better every year. This is all about you people and once you guys have a great time that's all we care about."
#Team Isaacs is the defending team champion.
#Individually, two time defending champion Bo Bichette of the Toronto Blue Jays will be back and headlines the list of visiting players. Approximately 20 Bahamian minor league prospects will also participate, including several first time participants that both Isaacs and Fox expect to make an impact.
#"The Number 1 prospect is probably Bo Bichette, that's a no brainer," Fox said. "But Ian Lewis is a sleeper pick. He's a switch hitting infielder in the Marlins organisation. I feel like maybe Todd will overlook him and I can grab him and he can put us over the top."
#Isaacs added: "Guys like Kristian Robinson, Jazz Chisholm, Will Benson, Shed Long, those are the guys I'm aiming for. Lucius picked some guys that he thought would put him over the edge last year and it didn't work out for him. My sleeper picks would be James Rolle and Zion Bannister, those are two new guys that I think will surprise a lot of people."
#Robinson, the No.2 prospect in the Arizona Diamondbacks organisation, is taking a business-like approach to this year's event and predicts that this will be the year a Bahamian wins it all.
#"Almost everyday when I clock in to work I get a question about the derby and it kind of catches me off guard. I always get the question, what's going on with it, what it's about, so the interest in the baseball world is definitely there," he said.
#"I saw Bo last year in round one and it's kind of personal for me now. I'm trying to bring some seriousness to it and I feel like Bahamians have something to prove this year and I know I'm coming locked and loaded and I plan to win.
#"My mentality has changed a lot this year and I plan to win. On January 5, I'll start to worry about what I have to do for the Diamondbacks, but until then my focus is on winning the derby."
#In addition to the Home Run Derby, the participating players will host a clinic for aspiring student athletes at the Atlantis resort in Paradise Harbour on January 3.
#"We kickoff the weekend with a kid's camp and will be partnering with the MLB Play Ball initiative. That is the branch of MLB that hosts all their kids camp around the world and this will be their first time coming down to the Bahamas," Isaacs said.
#"Through Charles Johnson we made contact with the Play Ball initiative. He's played in the major leagues for a long time so a lot of the relationships with people throughout baseball. When they saw the derby, they saw the kids camp and they were blown away by what we were doing. They are bringing boxes and boxes of stuff to give away to the kids."
#Community outreach efforts like the kid's camp remain a mandate of the group for the further development of the next generation of baseball players.
#"It is very important. I remember when I was 11-12 I would go out to Freedom Farm and the highlight of my day was training with Albert Cartwright when he was in the minor leagues. Every time he came into town I just was so excited to hit with him and take ground balls with him and now that I'm in this position I feel like it's my duty to reach kids, encourage them and give them tips that I didn't know at that age," Fox said.
#"I just want baseball to grow in the Bahamas. Over the years they've been talking about the Dominican Republic and all these Latin American countries, but I know we have the talent. If I can do my part to help the young guys be better than us then I will do just that. It's never selfish when it comes to us we just look forward to breaking down as many doors as possible."
#Melissa Colebrook, marketing manager for REV, said the company continues to serve as title sponsor for the event because their vision of youth development aligns with that of the young baseball pros.
#"REV is so proud to announce that we remain title sponsor. We have a long-standing relationship with the baseball community with our extensive coverage of the sport over the years on our network," she said.
#"Todd and Lucius' vision of supporting our Bahamian community, but more importantly showcasing the successes of our Bahamian young men at a time when we most need this to be showcased, is something that both REV and Aliv fully support."
#The derby will be broadcast live on OURTV.
#"It's a great privilege to partner once again with the exciting team to do this event," said Alexia Coakley, media operations manager at OURTV.
#"We are three years in and we have been presenting the event on local TV in The Bahamas and we are able to broadcast it to The Bahamas and through social media to the world.
#"It is a delight as always to see how the talents develop over the years.
#"I always take every opportunity to say that OURTV was around when these guys were tee-ball players."