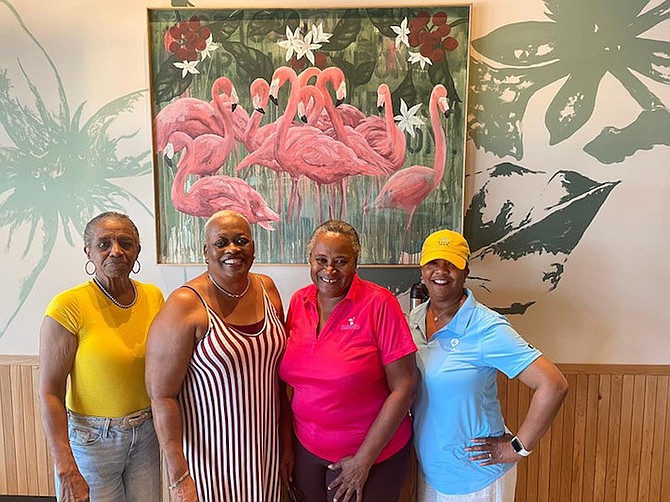 SHOWN, from left to right, are Agatha Mona Delancy, Flamingos Women's Golf Club 242 Founder and Executive Coordinator; Laurie Bethel Lightfoot, Executive Committee Member/ Constitutionalist; Diane Miller, Club Treasurer/ Membership Chair; and Anja Charles, Executive Committee/ Coordinator, Special Events.
As of Wednesday, June 21, 2023
#THE Flamingos Women's Golf Club 242 celebrated Women's Golf Day this month, hailing the women who are blazing trails in the sport, and encouraging new members to join.
#Women's Golf Day is more than just one day; it's a week-long celebration that takes place around the world, highlighting women and girls playing golf and learning skills that last a lifetime.
#This year's week was commemorated from May 30 to June 6.
#Flamingos president Agatha Mona Delancy rallied club members to celebrate one another and to never forget the path laid in a sport that will ultimately grow with women's participation in the future.
#"For this year, Flamingos Women's Golf Club 242 decided that a most fitting way to honour some of the movers and shapers of women's golf in The Bahamas was to present them to those of us who are a part, or desirous of becoming a part of this community of golfers," Delancy said.
#The list includes more than 40 women in New Providence, and seven Grand Bahama women – all who have made significant contributions to women's golf in The Bahamas.
#Among those recognised were Georgette Rolle-Harris, founder of Fourteen Clubs, Inc., which includes about 100 skilled tournament golfers as well as some 800 juniors from public schools.
#Other women who were highlighted for Women's Golf Day include National Amateur Championship Golfers Raquel Riley, Ingrid Black and Alena Hutchinson.
#National team members and golf administrators were also highlighted, including: Paula Newchurch-Cooper; Giselle Pyfrom; Jamecia Duncombe; Jaqueline (Jackie Longley); Pauline Curry; Gina Rolle-Rodriguez; Jenna Bayles; Inecia Rolle; Anja Charles; Sharon Cleare; Ann-Marie Hepburn; Janet (Jan) Pyfrom; Dr. Patti Symonette; Stephanie Carey; Vanria Munnings; Ethelyn Davis; Danielle Roninson; D'Andrielle Robinson; Michelean Poitier; Donnett Bain; Paula Von Hamm; Fran Dillett; Maria Campbell; Sheila Taylor; and Beryl Higgs. Posthumously, Muriel Eneas; Eloise Lochkart-Pinder; Gerry Smith; Yvonne Shaw; and Bettye Stubbs were recognised.
#President Delancy was also lauded for her immeasurable contributions to the sport of golf in The Bahamas. Sixteen years ago, she was elected as president of the Bahamas Golf Federation.
#It marked the first time in history that this position was held by a woman. With her leadership and guidance, the federation grew by leaps and bounds, and more women were inspired to take up the sport of golf.
#Paula Newchurch Cooper was celebrated as a repeat outstanding member of the CAGC George Teale Cup Team.
#Her phenomenal performances earned her the distinction as one of the best women competitors of the game.
#She accomplished the feat of being the only female player to make a hole-in-one on a Par Four Hole (the former Cable Beach Golf Course).
#Flamingos have plans in the works to help increase the amount of golf players in the country, rally support for young golfers, and advance the sport nationally.