Foster Signs With Barry University Buccaneers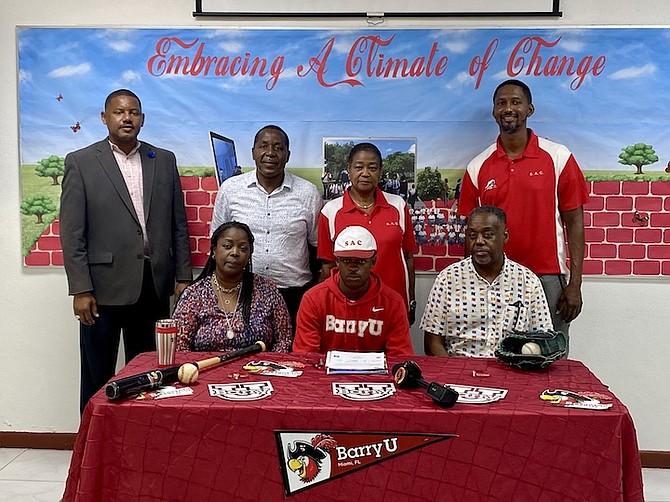 STANDING: Guidance counsellor Stephan Walkin, Physical Plant manager/track and field coach William Johnson, immediate past principal Sonja Knowles, and Physical Education Department head Jason Edwards. SITTING: Jacqueline Foster, Malik Foster and Michael Foster.
As of Thursday, April 28, 2022
#By RENALDO DORSETT
#Tribune Sports Reporter
#rdorsett@tribunemedia.net
#ST Augustine's College senior Malik Foster made it official with the Barry University Buccaneers and signed his letter of intent to join the men's baseball programme next fall.
#Foster made his announcement before family, friends and faculty Tuesday afternoon at the Big Red Machine campus.
#"From a young age I knew I wanted to play the sport of baseball. I had a lot of goals for myself and there were times I had to ask myself if this is what I really want to do. There was times I really wanted to quit but I know that God had something in store for me, and to see this in front of me it's hard to hold back tears to be honest.
#"I know the work is just starting but I'm happy where I'm at right now," Foster said. "I wouldn't be here firstly without God, without my parents, they sacrificed the most for me. A lot of money to help me to get exposure and get in front of the eyes who needed to see what I really have. I want to thank my friends because they're the ones who support me behind closed doors. I really appreciate that."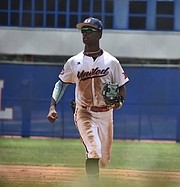 ST Augustine's College senior Malik Foster has made it official with the Barry University Buccaneers and signed his letter of intent to join the men's baseball programme next fall.
#The Freedom Farm Baseball League product credited his development throughout the programme and the coaches that guided his progression to this point.
#"I remember coach Forbes, when I was young on the Mosquitoes, was one of the first ones to really have faith in me and tell me that I could do this. Coach Fergsuon with the Silver Jacks, I feel like he was my best coach, he really guided me to be the person that I am today. Coach Culmer, he taught me so much about playing the game the right way, coach Moxey is the type that will teach you the hard way and how things are in the real world and I can't thank him enough for that because any coach can just sugarcoat it and tell you what you want to hear but he tells you reality," he said.
#"I also want to thank coach Edwards at SAC who never said my dreams were pipe dreams – he told me to keep going at it."
#A 5'11", 175-pound infield and right handed submarine pitching prospect, Foster spent the last two years travelling to a number of independent showcases and tournaments in an effort to gain exposure on the collegiate recruiting circuit.
#"The process, it's tedious. Baseball is a game where you fail more than you succeed. You go to a showcase and you don't know what's going to happen. I don't think I ever went to a showcase and was 100 percent proud of what I did, I always felt like I could have done better and see how I can be better for the next time, but the process, baseball is a hard sport.
#"I'm happy I'm here and I was able to finally achieve this," he said. "Everytime I wanted to give up I just had to remember (God) is the one in control and that the present might not be what you want, but the future is what you are going to get so just trust in him (God)."
#During the recruitment process, Foster said the Buccaneers coaching staff and volunteer assistant coach Josh Fellerman stood out.
#"The coaches welcomed me with open arms this summer. Coach Fellerman, he came to see one of my games and said 'I like this kid, I want to see him later.' Some coaches let you know you can come to their school, he had an attitude of 'we want you here' and for me, the number one thing is I want to be somewhere I feel wanted, somewhere I feel at home. I felt that with Barry University."
#The Bucs are currently 17-26 in NCAA Division II's Sunshine State Conference.
#Proud parents Mike and Jacqueline Foster were on hand to witness the career milestone.
#"I'm very proud of this moment. This journey has been very long," his father Michael said.
#"I congratulated him for the effort he has put into what he wanted to do and I pray that he will continue to succeed, particularly with his college education. I would just say that I thank God that he has this opportunity."
#His mother, Jacqueline Foster added: "It has been a long one but it's been, I guess an enjoyable one for us as a family, and we look forward to what is to come for him. We want to also thank all who have been a part of the process – all of the coaches at Freedom Farm, the coaches at St Augustine's College, and the independent coaches who have helped him along the way."