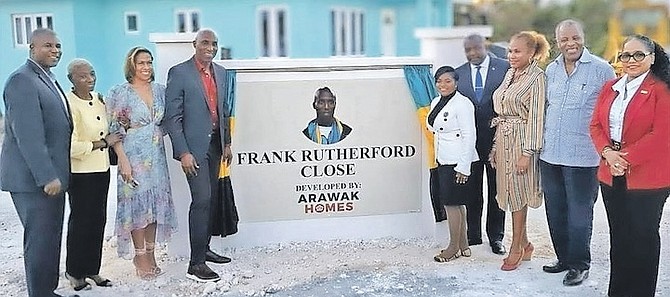 As of Tuesday, January 24, 2023
#ON Friday, executives of Arawak Homes, headed by Sir Franklyn Wilson, along with Minister of Youth, Sports and Culture Mario Bowleg and other dignitaries, unveiled the new subdivision, Frank Rutherford Close, on Pine Barren Road, Prince Charles Drive.
#The new subdivision was named in honour of Rutherford, the first Bahamian to win an Olympic Games track and field medal when he secured the bronze in the men's triple jump in Barcelona, Spain in 1992.
#Rutherford, who currently resides in Houston, Texas, attended the event with his wife, Melissa; his long-time Baintown Flyers Track Club coach, Neville Wisdom, and his fellow team-mate Pauline Davis-Thompson, among other family and friends.
#Rutherford, fourth from left, is shown with the dignitaries as they unveil the sign for the Frank Rutherford Close.
http://www.tribune242.com/news/2023/jan/24/frank-rutherford-close-subdivision-unveiled/?news