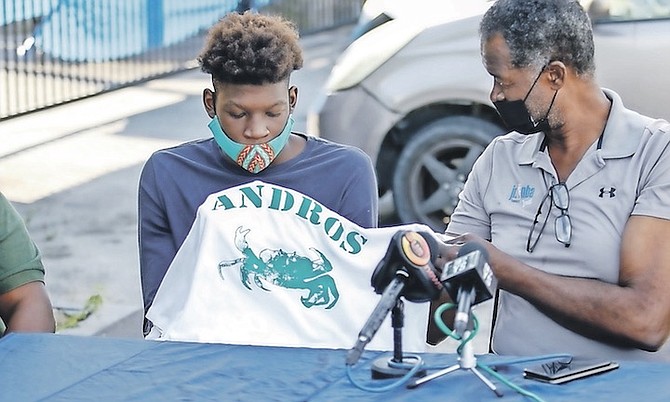 PETER Gilcud presents Fredrick King Jr with his Andros shirt.
As of Thursday, January 7, 2021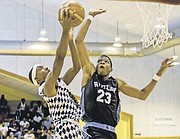 FREDRICK King goes up for a block against a Doris Johnson player in the GSSSA Championships. Photos: 10th Year Seniors
#By RENALDO DORSETT
#Tribune Sports Reporter
#rdorsett@tribunemedia.net
#Fredrick King Jr will make Bahamian basketball history as the country's first student athlete to enrol in one of the National Basketball Association's global academies.
#King is set to leave New Providence today en route to the NBA Academy Latin America programme in Mexico City, Mexico.
#NBA Academy Latin America is an elite basketball training centre in Mexico City for the top prospects throughout the Caribbean, Mexico, Central America, Canada and South America.
#The academy is a partnership between the NBA, CONADE (Mexico's National Commission for Physical Culture and Sport) and the Mexican Basketball Federation.
#King made the official announcement at the Bahamas Elite Sports Academy campus yesterday.
#"I just want to thank everyone who has helped me on this journey, I appreciate the support and the love. I was very happy, I just had no idea I could get this far in the game yet.
#"I feel confident, I just need to pick up on things quickly and work even harder now."
#The 16-year-old 6'9", 210-pound forward said he patterns his game after the reigning two time NBA MVP, but looks to expand his development at the academy.
#"I try to pattern my game after Giannis Antetokounmpo," he said. "I can rebound, run the floor, play above the rim and just be athletic. I can play inside or out, but I know I have to learn how to shoot better."
#A native of Mangrove Cay, Andros, King matriculated to New Providence and joined Mark Hanna's programme at DW Davis.
#As a member of the Royals, King helped the team to multiple GSSSA and Father Marcian Peters Tournament championships.
#He then went on to play for Kevin Johnson and the CI Gibson Rattlers.
#"My game, it's gotten better everytime I practice, I just try to learn as much as I can and to get better with everything that I do, "King said.
#"[My coaches] They played a big role because I believed if I never made the move to Nassau I would not have become this good and I would not be here today."
#King's stepfather, Carson Lundy, echoed those sentiments and said he is just one example of the deep talent pool in the family islands.
#"The journey started from Mangrove Cay where coach Smith saw his talent and she said to me she thought he should further his skills.
#"So we took her advice and sent him to DW Davis with coach Hanna, then he went to CI Gibson with coach Johnson, then I got the call from Mr Curry here at BESA about this opportunity with the NBA Academy – so said, so done," he said.
#"I want to give special thanks to the Smiths, Mr Craig Smith, his wife, their son Chad Smith, they took over the guardianship of Fredrick for two years and they did a wonderful job. I just want the Bahamian people to know there are a lot of elite athletes in the Bahamas. We just need to have persons who are able to look out for them and further their development.
#President and CEO of Bahamas Elite Sports Academy, Rodney Curry, said King's opportunity came about as a result of the organisation's amendment to the COVID-19 pandemic and hosting a virtual showcase.
#"It's an historic event to have our first Bahamian student athlete go abroad to attend an NBA Academy. Every year at Bahamas Elite we host our basketball showcase, where we showcase some of the best talent in The Bahamas.
#"But this year we were unable to because of COVID-19 and we had to take a different direction and do a 'Cyber Showcase' and today the result of that showcase is this young man having the ability to further his studies and his skills," he said. "Hats off to this young man and we hope that he continues to work hard as he has been doing throughout his years."
#He added that any donations towards King's cause can be made at www.bahamaselite.org under the "donate" tab on the home page. "It is very expensive for this young man and his family. Any assistance that corporate Bahamas can lend will be appreciated," Curry said.
#"We are trying to help this family as best as we can so if anyone wants to assist they can contact the academy because we need to invest in our athletes, and this family can use as much assistance as possible.
#Bahamas Basketball Federation President, Mario Bowleg, said King is well on his way to being the latest Bahamian on the path to the NBA.
#"The BBF is proud of Bahamas Elite Sports Academy for having the platform for Fredrick King to showcase his talent and give him the opportunity to be the first Bahamian student athlete to attend the NBA Academy. As we are aware in this country, we have two NBA players, many in the NCAA in the pipeline that will be in the NBA. I believe this opportunity for Fredrick will allow us to have another player in the pipeline that stands a great chance of making it to the NBA," he said.
#"It shows the great improvement in the development of the game and the players in this country. When I got the call from the NBA Academy I was excited and I'm just happy that this day is here and Fredrick has an opportunity to better his skills at a high level toward becoming a collegiate or professional basketball player."
#NBA Academy is an elite basketball development initiative that provides top high school-age prospects from outside the US with a holistic approach to player development. The NBA Academy programme includes six academies across Australia, China, India, Mexico and Senegal for top male and female prospects from their respective countries and continents.
#The programme focuses on health and wellness, character development and life skills, and gives prospects the opportunity to learn the game from outside coaches who the NBA hires with professional, collegiate and international coaching experience.
#As part of the programme, the prospects compete against top competition throughout the year and have an opportunity to be selected for travel teams that play in international tournaments and exhibition games.
#Depending on the location of the academy, prospects either attend a local public school or receive a scholarship to a local private school, and receive additional academic support as needed.
#"We forged a close relationship with the NBA Academy and we have been trying for a number of years to see how we can get a Bahamian in the academy," BESA Chairman Peter Gilcud said. "It's a team effort that makes it happen. He is the latest in the lineage of great players to come from Andros."