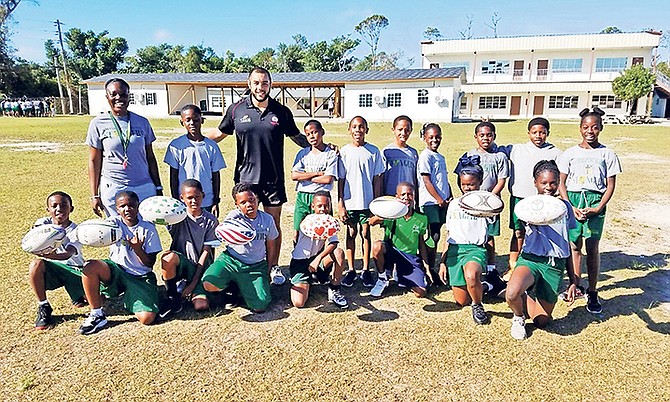 Freeport Rugby Football Club is working to expand its programme.
As of Thursday, February 15, 2018
#WITH the popularity of rugby rising around the world, the Freeport Rugby Football Club (FRFC) is working to expand its own rugby programme.
#The success of its Saturday developmental league has created a surplus of players and now a full women's and young girl's rugby league too.
#Last month, Stephen Sheehan joined the club as their youth development officer. Sheehan, a Florida native, played four years of collegiate rugby at the University of Florida.
#Stephen is a former team captain and second-team All SEC selection for the Florida Gators, with a bachelor's degree in journalism and a Master's degree in sports management. After graduating, Stephen returned home to South Florida and began coaching football and working as a high school teacher while continuing his playing career with the Okapi Wanderers RFC based in Weston, where he also served as club captain. Seeking more rugby experience as a coach and player, he spent three months in Gorey, Ireland before making his way to Freeport, Bahamas.
#"From Florida to Ireland and now to The Bahamas, rugby has literally taken me all over the world," said Sheehan. "I am very excited to put Freeport RFC on the map and help Bahamian children understand the impact that other sports like rugby and soccer, can have on and off the field."
#With an extensive background in both teaching and coaching, Sheehan's ability to connect with youth of all ages and demographics made him the ideal candidate for the YDO position.
#His primary role is to foster relationships with the schools on the island and recruit children about the emerging sport of rugby. He will also head coaching activities on Saturdays at the club, located next to the YMCA. "We decided we needed to invest some time and funds into the local community and schools," noted Robert Speller, FRFC President.
#"The club wanted to improve our junior soccer and rugby programmes and Stephen fit the youth development idea we had. The club has just passed its 50th birthday and we wanted to start the next 50 years with strong youth development programmes and leading the way in rugby in the country."
#Not just a rugby club, the second "F" in its name stands for 'football', also known as soccer. The club also has a burgeoning youth soccer programme that coach Sheehan will also promote with the eventual goal of creating a competitive league.
#Another asset for FFRC is Sheehan's journalism degree, which he is utilising to improve the club's social media with Facebook, Instagram and Twitter to build a strong brand within the community. Besides recruiting athletes for the rugby and soccer programmes, Freeport RFC seeks to become a place for families and friends to come together to enjoy the social aspects of club membership.
#Whether you are interested in playing rugby, soccer or simply want to become involved with the club, interested persons can contact Sheehan via email at stephen.p.sheehan@gmail.com or we encourage you to follow them on Facebook at Facebook.com/FreeportRFC, on Instagram (@FreeportRugbyClub) and on Twitter (@FreeportRFC).