Sprinter, high hurdler all set for big event in Zurich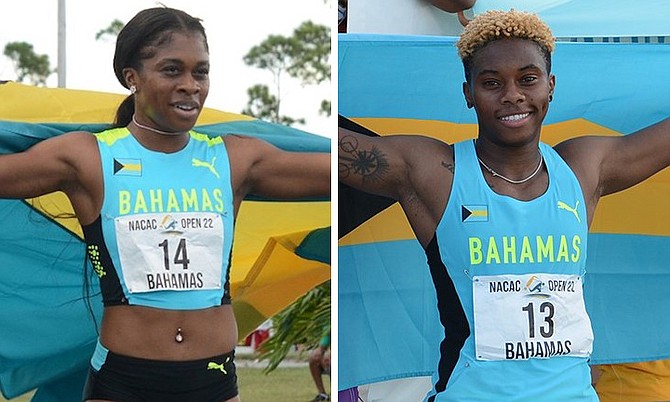 SPRINTER Tynia Gaither, left, and high hurdler Devynne Charlton, right, are the only two Bahamians who secured a spot in the Wanda Diamond League Final this week in Zurich, Switzerland.
As of Tuesday, September 6, 2022
#By BRENT STUBBS
#Senior Sports Reporter
#bstubbs@tribunemdedia.net
#After four months and 12 meetings, high hurdler Devynne Charlton and sprinter Tynia Gaither are the only two Bahamians who survived for a spot in the Wanda Diamond League Final this week in Zurich, Switzerland.
#The league's most dramatic climax will take place on Wednesday and Thursday when 32 champions will be crowned with the prestigious Diamond Trophy in the series final at Weltklasse Zurich.
#While six finals will take place at a city event on Wednesday, Gaither and Charlton will be among the remaining 26 featured at the Letzigrund Stadium on Thursday.
#The duo earned their berths in the series of events that took place from May 14 in Doha, Qatar, to Brussels, Belgium on September 2. In the series of meets throughout that period, athletes earned points from 13 meetings across four continents.
#Notably absent from the list is Olympic and world champion Shaunae Miller- Uibo, who qualified in both the women's 200 and 400 metres, but she opted not to compete.
#Instead, she shut down her season after winning the gold medal at the North American, Central American and Caribbean Championships in Grand Bahama a few weeks ago.
#The 28-year-old Bahamian multiple national record holder finished the series in fourth place in the 200m with 12 points from two meets, while she occupied the second spot in the 400m with 22 points in thee meets.
#Gaither, the 29-year-old Grand Bahamian native, is having undoubtedly her finest season, having emerged in her first Diamond League Final tied for fifth place with American Gabrielle Thomas, Swiss sprinter Mujinga Kambundji and Great Britain's Beth Dobbin, all with 10 points from two meets.
#Jamaica's Shericka Jackson tops the field with 23 points from three meets. Jackson, who has had a terrific transformation from the 400m to the sprints, winning a medal in just about every international meet she competed in, is also entered in the 100 at number three behind Marie-Josee Ta Lou of the Ivory Coast and fellow Jamaican sensation Shelly- Ann Fraser-Pryce, who is going for her fifth Diamond League title.
#Like Gaither, national record holder Charlton is making her debut in the women's 100m hurdles as she capped off a tremendous season that started with a silver medal at the World Indoor Championships, another at the Commonwealth Games in Birmingham, England and a bronze in the NACAC Championships at home.
#Charlton, 26, is tied for second place in the standings with Puerto Rico's Olympic champion and world championship bronze medallist Jasmine Camacho-Quinn, both with 16 points from a pair of meets.
#The leader of the pack is World and Commonwealth Games champion Tobi Amusan, the world record holder with 22 points from three meets.
#The women's 100m hurdles will take place at 7:25pm on Thursday with Charlton competing against Amusan, Camacho-Quinn, Jamaican world championship silver medallist Britany Anderson, former world record holder Kendra Harrison along with Nia Ali and Tia Jones, all from the United States, Switzerland's Ditaji Kambundji and Poland's Pia Skrzyszowska.
#"I'm feeling pretty good, looking forward to rounding out my season with a strong performance," Charlton said.
#"It's a tough field and should make for a really fast race. "I'm focused on having a good execution to put myself in the running."
#Charlton, ranked at number seven in the world and a seventh place finisher at the World Championships, heads into the meet having lowered the Bahamian national record to 12.46 for her lifetime best at the Bahamas National Championships at the Thomas A Robinson National Stadium in June.
#Amusan clocked 12.12 in the semi-finals at the World Championships in Eugene, Oregon in July for the world record before she lowered it in a wind-aided 12.06 in the final that wasn't a legal time.
#The 29-year-old Gaither, on the other hand, rebounded from a false start in the 100m at the World Championships to make the semi-finals of the 200m.
#Then she went on to the Commonwealth Games where she got seventh in the 100m and was a silver medallist in both the 100m and the women's 4 x 100m on a brilliant comeback leg at the NACAC Championships.
#Gaither, currently ranked at No.27 in the world with her lifetime of 22.41 this season, will run in the 200m at 9:42 pm against a stacked field.
#The field includes Jackson with the world's fastest time of 22.41 this year, Americans Thomas, Jenna Prandini and Tamara Clark, Swiss' Kambundji, Dobbin from Great Britain and Ida Karstoft from Denmark.
#In addition to winning the Diamond League trophy, athletes will be competing for a total of $30,000 in prize money with a further $30,000 distributed amongst the other finalists. While first place will pocket $30,000, second place will collect $12,000, third place $7,000, fourth place $4,000, fifth place $2,500, sixth place $2,000, seventh place $1,500 and eighth place receives $1,000.
#From the Diamond League series, the overall winner will also get $10,000, second place $6,000, third $3,500, fourth $2,000, fifth $1,250, sixth $1,000, seventh $750 and eighth earns $500.
http://www.tribune242.com/news/2022/sep/06/gaither-charlton-diamond-league-final/?news