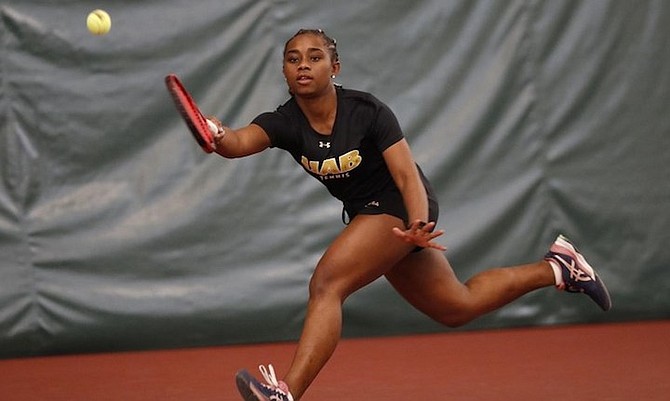 SYDNEY Clarke in action for the University of Alabama at Birmingham Blazers women's tennis team.
As of Wednesday, September 7, 2022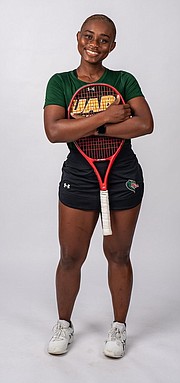 SYDNEY CLARKE
#By BRENT STUBBS
#Senior Sports Reporter
#bstubbs@tribunemedia.net
#SYDNEY Clarke is eager to get her junior fall season started with the University of Alabama at Birmingham Blazers women's tennis team.
#Clarke, who closed out her sophomore year in May by being named to the Conference USA All-Conference Singles Second Team, is set to begin playing for the Blazers September 16-18 in the Austin Peay Hidden Duals in Clarkesville, Tennessee.
#"Things are looking good, preparation wise," said Clarke, a right-handed player. "Pre-season has been going very well. We have been getting in a lot of practices getting prepared and equipped for what is ahead of us."
#After coming home this summer to play for the Bahamas in the prestigious Billie Jean King Cup, formerly the Fed Cup, Clarke said she's hoping that the experience gained will help her as she continues her tenure for the Blazers.
#"I just want to continue doing better and get better," stated Clarke, who won the Bahamas Lawn Tennis Association's December Invitational to win the top spot on the national team.
#"I'm really hoping for a very successful fall. My spring season has been pretty good. So I'm really going to push myself so that I can do better than I did in the spring."
#Already, Clarke said the coaching staff, headed by Mark Tjia, assisted by Paula Baird, expect her to improve on her game and take more of a leading role as the number two player in singles and No.1 in doubles for the Blazers.
#"They expect for me to be more professional on the court and to be more of a leader on the team," she stated. "I expect to be more calm and composed and be able to fight right to the end in every match that I play. If I can do that, I have a chance to do very well for the team."
#Clarke, a 20-year-old graduate of Windsor Academy after transferring from CR Walker Secondary High, said there's a lot of pressure, but she's confident that she can handle it.
#"Playing these matches in the fall should really help me in the spring next year," Clarke said. "So I want to be able to take advantage of these opportunities to be able to improve my game."
#Once the fall season starts next weekend, Clarke said they should be playing in a series of matches just about every weekend until the end of October.
#As for her classes at UAB, Clarke said she switched her major to mass communication with a minor in broadcasting with marketing on the side. She said her classes have already been intense since she returned to school, but she's looking forward to the year ahead of her.
http://www.tribune242.com/news/2022/sep/07/sydney-clarke-eager-get-her-junior-fall-season-und/?news