Edit Post
Edit with ElementorSwitch to draftPreview(opens in a new tab)UpdateAdd titlePermalink:http://sportsinthebahamas.com/blog/2020/07/16/get-better-basketball-camp-rocks-carmichael/‎(opens in a new tab)Edit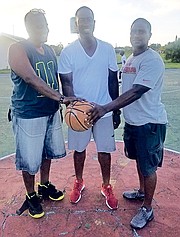 BENSON YOUNG, Jason Edgecombe and Kirkwood Neely.
#By BRENT STUBBS
#Senior Sports Reporter
#bstubbs@tribunemedia.net
#WITH so much time on their hands to spare, former basketball player Jason Edgecombe said he decided to stage the 'Get Better Basketball Camp' to help improve the skills of the young boys in the Carmichael Road community.
#The camp, designed for young boys between the ages of five and 18, got started in May at the basketball court on Mermaid Boulevard and will continue throughout the summer. "I decided to come back home and give back to the game that has helped me to go off and get an education," said Edgecombe, who graduated from SC McPherson in 1996 and went on to Walsh University and Langston University.
#Edgecombe recalled how he met Judson Stubbs in the airport and after they discussed what they were going through, they became good friends and eventually played with the Real Deal Shockers in the New Providence Basketball Association.
#Edgecombe said having had the opportunity to play college basketball, he wanted to make sure that he tried and helped some of the other youngsters in his community to do the same.
#He's grateful for some of his friends like Mario Pickstock, Vernon Stubbs and Benson Young, who all have their children involved in the camp that is free of charge.
#The camp runs from 5 to 7:30pm each evening and Edgecombe said he's gotten support from veteran women's basketball player Latoya Rolle, who hails from the community, to serve as the chief instructor.
#During the day, Edgecombe said he finds the time to take the campers to the beach to have fun, feed them at local fast food restaurants and on tours to some of the historic sites around town.
#While there are no girls involved in the camp, Rolle said she can still impart her knowledge to the young boys. "We have a lot of young players with talent and as a product of this community, I don't mind sharing the talent and the knowledge that I have in basketball with them," she said. "I want to see them better themselves."
#Since she started working with the camp, Rolle said she noticed that a lot of the participants lacked the basic fundamentals of the game. But as she continues to work with them, she has seen some improvements.
#Edgecombe's former team-mate at SC McPherson, Kirkwood Neely, said as an inspiration to the younger and older guys in the community, he couldn't help but come out and lend his support.
#"What he is doing has put a fire under the young kids, especially in this pandemic that we are in," Neely said. "I noticed that the passion of a lot of the participants for basketball has grown tremendously.
#"Their basketball IQs are continuing to grow and the sky's the limit for them. This is something that I feel a lot of guys in other communities have been doing and are continuing to do."
#Neely, who attended St Gregory College in school in Oklahoma and North Carolina State, said since he's been back home, he played in the New Providence Basketball Association, but he wants to join Edgecombe in helping out the younger generation.
#Benson Young, a former rival from AF Adderley, who played against Edgecombe and Neely, said they all became good friends off the court and when he found out about the camp, he decided to bring his son Benson Jr out to participate.
#"I like what he's doing with the kids so I decided to bring my son out to let him see that I was serious about him developing his skills in basketball," Young said.
#"He is nine years old and he has the fundamentals down, but he needs more help. With him coming here, I know that he will get better in his development of playing basketball."
#Edgecombe's son, Kingsley, is also a part of the camp, which has attracted more than 30 participants who will all be ensured of engaging in some wholesome activities this summer.