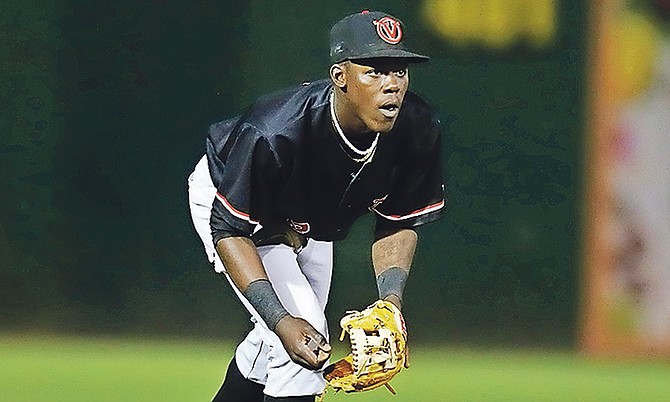 Bahamian professional baseball player Jasrado "Jazz" Chisholm.
#By BRENT STUBBS
#Senior Sports Reporter
#bstubbs@tribunemedia.net
#HE would prefer to be on the field in Miami, Florida, preparing to crack the line-up for the Miami Marlins for the upcoming 2020 Major League Baseball season on July 23.
#Instead, Bahamian professional baseball player Jasrado "Jazz" Chisholm found himself confined to his hotel room in Jupiter, Florida, waiting on the clearance to work out again after he had a series of positive-negative testing for the coronavirus.
#"Lately, I've been getting too many back and forth positive and negative tests, so I've only been on the field for one day," said Chisholm, the talented shortstop who is ranked at No.3 in the MLB prospects of the Marlins.
#"I need two negative tests in a row to get on the field, but I've been getting a positive one day and a negative the next day. The test is just not accurate. I'm trying to get out there, but it's not happening for me right now."
#The 22-year-old Chisholm, who was traded from the Arizona Diamondbacks to the Marlins on July 31, 2019, said it's frustrating for him to have to be confined to his hotel room, rather than going out on the baseball field every day.
#"It's like they keep telling you that you can go out there and play and then they take away that opportunity when the results come back," said Chisholm, who admitted that he's not the only player going through the ordeal with the coronavirus.
#"It's really frustrating for me as a player, who wants to be out there every day playing," he said. "I am the only player on our team here in Jupiter who is experiencing this problem.
#"I should be in Miami, but with all of these tests going on for the last three weeks, they sent me to Jupiter to get everything worked out so that I can be ready for the season whenever they need me.
#"With all these tests going on, it's not happening. They test me every other day and after they test you, if you get a positive result, you have to stay inside and quarantine. The most I can do with the positive result is go out and jog to stay in some shape."
#With all that's going on, Chisholm said if he didn't have a positive mindset, he would really be depressed by now because he doesn't have any symptoms. He just can't get two negative tests to get on the field at the Roger Dean Chevrolet Stadium in Jupiter.
#"Every day, if I don't have a test, I stay in my room or go on a run or a walk," he said.
#"I try to stay in some type of shape. I can't really do anything to catch the virus, although I don't know why I can't get the two negative tests.
#"I'm watching everybody and I'm really excited that we're going to have a baseball season.
#"So as soon as they let me out of the gate, I know that I will be ready. I'm coming out with some hatred in my heart because I'm in this room and I know I am healthy."
#Chisholm, who was invited to his second consecutive spring training albeit with a new team, said he expects that the Marlins will be a force to reckon with in the league this year.
#"With the team and how they have been working out, I believe the Marlins have a chance to win the World Series," Chisholm said. "I am watching the videos every day from practice and it's been exciting."
#As a member of the Marlins' 40-man roster, Chisholm said it's one step closer to him getting a call to become the next Bahamian to play in the Major League, joining Antoan Richardson, Ed Armbrister, Tony Curry, Wenty Ford, Wilfred Culmer and Andre Rodgers, the pacesetters.
#"It's nice to know that they have you under their radar and that this team wants you to be here and they want you to be a part of their future," Chisholm said.
#It's been five years since Chisholm began its pro career in baseball, but he felt he should have cracked the Major League at least a year ago.
#"It was my fault that I'm not already there, so it's my fault," said Chisholm, who finished last year in Double-A baseball with 21 home runs, a bit down from the 25 he belted two years ago. He also drove in 54 runs last year. "I was more disappointed in myself because I felt I had a chance to get there and I didn't take it.
#"It was just me not having the right mind set and just going through the motion. I knew I was good last year, but I just had the wrong mindset going onto the field until I got traded. When I got traded, I had a different mindset. When I got traded, I said 'I was ready. Let me change my mindset.' I went back to my old mindset."
#After leaving Faith Temple in grade seven, Chisholm went to Word of Life, now Life Preparatory School Wichita, Kansas to continue high school where he played against Grand Bahamian Chavano 'Buddy' Hield at Sunrise Academy in basketball.
#As a typical Bahamian, Chisholm not only played basketball, but he also held his own in baseball and football. But he admitted that baseball was his first love and that was why he stuck with it.
#"The coaches saw me playing in physical education and they asked me to come out to practice for the varsity and the junior varsity basketball team and I also played football in the ninth and tenth grades.
#"I was in the ninth grade and Buddy was a senior when I played against him. His team won. I think Buddy had about 20-something points and I had about nine points. I was really small back then, about 5-feet, 6-inches, but I could shoot the ball and dunk."
#In basketball, Chisholm played point guard and was a safety and wide receiver in football. But he admitted that after he returned home and concentrated more on baseball, he got signed as an international recruit and his career took off.
#The son of Jazz Chisholm Sr and Martinique Coakley was setting the pace for his four sisters and two brothers, including Domonique Collie, his adopted brother, who is now in the pipeline in the minor league.
#With minor league suspended for the rest of the year, Chisholm said he's already reached out to the more than 20 Bahamian players to encourage them to stick with it and not give up hope of fulfilling their dreams.
#"I sent all of the young guys a video of me talking to them and I was telling them to think about it as a longer off season," Chisholm stressed. "If you think about it as a longer off season, you will only get better.
#"So if they give you more than to get better during the off season, you should be better by the time the league comes back. By the time you go back to play, you should be able to play next year. You should be better because you had over a year to get ready."
#Having his grandmother, Patricia Deveaux as his role model when she played softball, Chisholm said he grew up around the sport and that extended to baseball when he got a chance to play.
#"I have a few cousins playing college baseball, but I'm the one who really excelled so far," said Chisholm of his family members Myron and Shannon Johnson and Wayde Beckford, who are following in his footsteps.
#And with the new national baseball stadium expected to be completed by the end of the year, Chisholm said it won't mean anything to him and the other pro players if they are not allowed to use it.
#"Are they going to use it for baseball and the professional players to participate in, or are they going to use it for other events," he asked. "If professionals don't get to use it, then they can't say anything about it.
#"I personally would not speak on the stadium if I am not allowed to use it as a professional baseball player. That's just me. I don't know what they are going to use it for. If they say professional baseball players can't use it to practice, then why should I come home to practice if I won't be able to use the best field in the Bahamas to practice?"
#Chisholm said it would be more convenient for him to stay in Miami where he can utilize the best facility available and to take advantage of the Marlins' staff that is at his disposal.
#In the meantime, Chisholm said he's trying to avoid being a victim of the coronavirus where the state has seen an increase of cases on a daily basis.
#"Normally, I just stay to myself. I don't go anywhere," he stressed. "So for me, I don't have a problem with what's going on and I'm not worried about it. I don't make contact with people unless me and you are really close.
#"I know the people who I hang out with only hang out with me, so I'm not worried about it."
#While he's going through his ordeal, trying to get his negative testing so he can get back on the field, Chisholm thanked the Bahamian people for their tremendous support and their prayers that they will all be great in their future endeavors.
#"We will be great, trust me," he summed up. "I know I can't wait to get back on the field and prove that I deserve to be in the Major League."