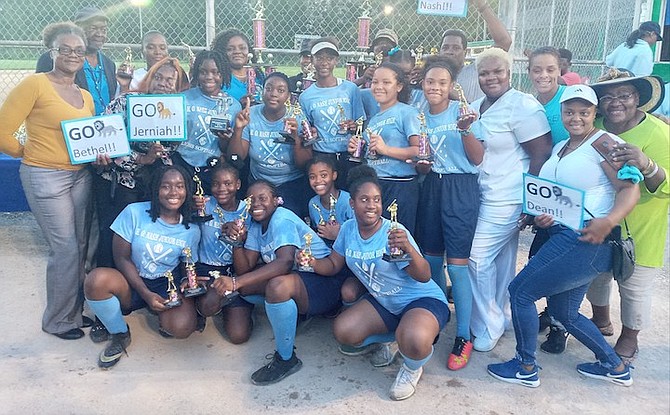 HO Nash Lions celebrate as GSSSA junior girls softball champions.
As of Friday, November 25, 2022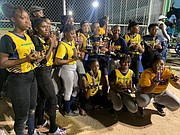 DORIS Johnson Mystic Marlins celebrate as GSSSA senior girls softball champions.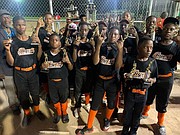 AF Adderley Fighting Tigers celebrate as the GSSSA junior boys baseball champions.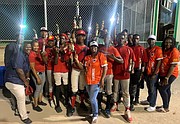 RM Bailey Pacers celebrate after winning the GSSSA senior boys baseball title.
#By BRENT STUBBS
#Senior Sports Reporter
#bstubbs@tribunemedia.net
#It was a double dose of victory as all four pennant winners emerged as the Government Secondary Schools Sports Association's softball and baseball champions with clean sweeps across the board on Thanksgiving Day.
#The best-of-three championships were concluded yesterday as the GSSSA played all of the games one after the other at the Banker's Field instead of using separate fields at the Baillou Hills Sporting Complex.
#Junior girls softball
#HO Nash Lions blanked LW Young Golden Eagles 23-0
#In a game that was over from the first inning, the Lions raced out to an impressive 11-0 lead and they added 12 more in the second before the massacre got stopped because the one hour time limit had expired.
#"It's a great feeling because all of our hard work paid off," said HO Nash coach April Styles-Rolle.
#"I never underestimate any team. We went out there and played the game. We executed and we were victorious."
#With her own cheering squad, Jerniah Frazer, the game's most valuable player, continued her dominance on the mound as she held the Golden Eagles in check. She also aided her own attack with a pair of home runs, one a two-run in-the-parker and the other a grand slam.
#"I feel good about our performance because we came along and we made it to the end to become victorious, winning all of our games and the championships," Frazer said. "I felt I did awesome. I'm excellent in whatever I do."
#In addition to Frazer, HO Nash got four runs from Jada Knowles and three apiece from Brenae Hart, Azaria Dean and Aliyah Newton.
#The losing pitcher was Ramona Knowles.
#Frazer came off a stellar performance in game one on Wednesday as she led the Lions to a 16-2 rout.
#Senior girls softball
#Doris Johnson Mystic Marlins def. CR Walker Knights 11-2
#Gathnie 'Grace' Chea struck out a pair of batters, but she also scored a pair of runs on as many walks to help lead the Mystic Marlins in their championship sweep.
#Her battery mate catcher Raniqua Delcye was a perfect 2-for-2 with two runs scored.
#"The performance was really well. I enjoyed playing with the team this year," Chea said. "I'm new to Doris this year, so I was glad to help us win the championship. It feels so good to be the champions."
#Head coach Zania Kemp watched as her Doris Johnson team took advantage of CR Walker's starter Vanessa Sawyer, who gave up seven runs in the first inning mainly on walks before she was relieved. By the end of the inning, the Mystic Marlins went through two other pitchers to pull off the win.
#"It feels really great winning because this is my first time coaching, so it feels really good, especially going undefeated," Kemp said. "Our girls made a few mistakes, but they held their own. Now we have to treat them for their effort."
#Doris Johnson clinched game one 16-2, but CR Walker's coach Aikia Rose was hoping that they would put up a much better showing in game two.
#"I'm happy, although I think if we had our pitching together in the first inning, we would have been right in the game," Rose said. "We made a few errors, but we came back and improved on our performance. It is what it is. But we will be back bigger and better next year."
#Junior boys baseball
#Champions
#AF Adderley Fighting Tigers def. SC McPherson Sharks 8-2
#Tigers' coach Vincent Sullivan knew he had the best junior boys team and they proved it, knocking off the Sharks to win the title. They did it behind the MVP performance from Mario Dean, who got the job done on the mound.
#AF Adderley won game one 5-1 as Dean was again the winning pitcher.
#Senior boys baseball
#RM Bailey Pacers def.
#CR Walker Knights 8-0
#In another superb pitching performance, Ladanian McKenzie powered the Pacers to victory as they completed their sweep of the senior boys title, much to the delight of head coach Clifton Carey, who was confident that they would do it.
#RM Bailey, avenging their only defeat this season by default to the Knights in the regular season, took game one of the series in another shutout, 1-0, as McKenzie was again the winning pitcher.
#Despite getting off to a late start, GSSSA president Varel Davis said she was pleased with how things turned out. "After not having sports in two years, the kids were really excited to get back out there," she stated.
#"Softball and baseball was our first sport and we had some rainy days, but all in all, we had a great start to our season.
#"The fans, the parents and the teachers all came out and cheered on their respective teams. I just want to thank all of them, along with our executives and the officials, who assisted us in making this a great season."
#The GSSSA will now prepare for basketball, which will kick off in January.
#She noted that the teams are gearing up to participate in the Father Marcian Peters Invitational and the other tournaments for senior boys during the Christmas break.
http://www.tribune242.com/news/2022/nov/25/gsssa-champions-crowned/?news