As of Tuesday, September 27, 2022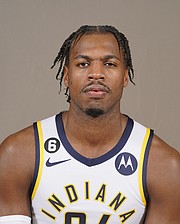 PACERS' Buddy Hield. (AP)
#By RENALDO DORSETT
#Tribune Sports Reporter
#rdorsett@tribunemedia.net
#CHAVANO "Buddy" Hield was the focus of trade rumours for months, but after his first offseason as a member of the Indiana Pacers, the veteran guard is optimistic about the potential of his team's young core for the 2022-23 campaign.
#Hield, one of just two players returning to the Pacers roster at least 29-years-old, said the young group is already showing signs of bonding and familiarity.
#"It's energetic, a lot of the guys are new and are learning how to be a part of the NBA life and how we go about it everyday. It's a fun group. Everybody is just hands on each and everyday," he said.
#"The young atmosphere keeps you healthy. Running around with young guys, I love the competitive spirit they bring everyday, it's a grind, it's a challenge everyday, but once you're mentally prepared and locked in and prepare the summer to be around young athletic talent, there's nothing to worry about."
#Hield was traded to the Pacers last February and in 26 games with the club, he averaged 18.1 points, 5.2 rebounds, and 4.8 assists per game. He shot 45 percent from the field and 36 percent from three-point range in just over 35 minutes per game.
#Prior to the trade, he averaged 14.4 points per game and made 182 three pointers, and was shooting a career-low 37 percent in 28 minutes per game with the Sacramento Kings.He averaged just 8.1 points in his final nine games with the Kings, but scored in double figures in 24 of 26 games with the Pacers.
#The young Pacers core is expected to be led by 22-year old point guard Tyrese Haliburton, 2021 lottery pick Chris Duarte and 2022 lottery pick Benedict Mathurin. "Everybody's voice is needed. We just have to learn quickly, adapt, and when training camp comes get after it. We brought in a group of guys that are a great fit, have great personalities, when you understand and like each other, it's easier to have a great vibes," Hield said. "When guys bring in their egos and go about things in different ways it's not a good vibe. I think the guys we have in the locker room are a good group of guys."
#Already traded twice in his NBA career, Hield's name was floated in trade rumours involving the Los Angeles Lakers. "It's the business of basketball. No matter what happens I love playing basketball," Hield said.
#"Once I have a job, and I'm able to play in this league for a long time it doesn't matter where I go, I'm happy, I'm still here I'm just glad to play basketball at a high level with the best basketball players in the world."
#In addition to his improved scoring numbers, Hield also reached his career high of nine assists on three separate occasions during his time in Indiana. He credited head coach Rick Carlisle's free flowing offence.
#Hield's 4.8 assists per game with the Pacers was an increase from 1.9 per game with the Kings. "Rick does a good job just letting me be myself and just letting me play freely and do random things but in accordance with his offence and control in the system. As a player, you want to be free and be myself but in the structure of his offence," he said.
#"Rick's offence allowed me to expand a little bit more. I was able to do more with the ball, be creative and play freely."
#Over his six seasons in the NBA, Hield has missed only three games due to injury or illness and played in 81 games last season. His only missed game was due to logistical reasons following the trade to Indiana.
#"Thank God, number one, for blessing me to play at a high level. Working on my craft, staying in the weight room and doing everything I do to stay ready," he said. "I got to put that on being a Bahamian too, there some durability in me coming from The Bahamas. I'm blessed and I thank God everyday for allowing me to play at a high level."
#Hield said one of his main goals this offseason is to improve his three-point percentage. He ranked fourth this season in both three-point makes (262) and attempted (716).
#As a Pacer, Hield reached another career milestone as one of the NBA's premier shooters. He moved into 50th place in career three-point field goals made when he surpassed 1,397 through his six-year career.
#Hield surpassed former Three Point contest champion Brent Barry and at the conclusion of the season, has made 1,417 three pointers. He now trails the Hawks' Danilo Gallinari at no.49 on the all time list with 1,426.
#The Pacers will face the Charlotte Hornets in their preseason opener on October 5.
#Opening night of the regular season for the Pacers is October 19 at home against the Washington Wizards.
http://www.tribune242.com/news/2022/sep/27/hield-optimistic-about-potential-pacers-young-core/?news