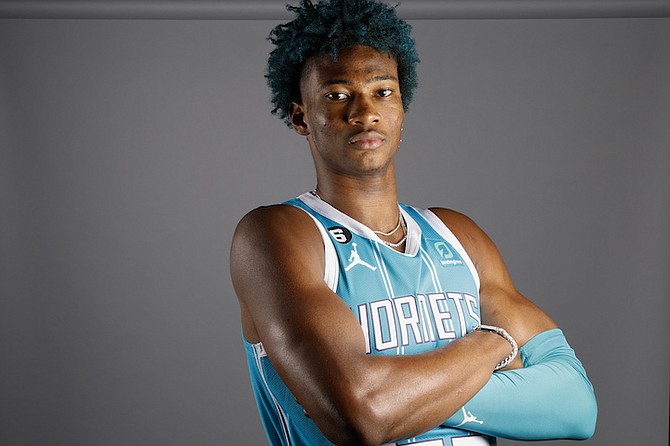 CHARLOTTE Hornets centre Kai Jones, of The Bahamas, at the NBA basketball team's media day in Charlotte, N.C., yesterday. (AP Photo/Nell Redmond)
As of Tuesday, September 27, 2022
#By RENALDO DORSETT
#Tribune Sports Reporter
#rdorsett@tribunemedia.net
#THE Charlotte Hornets have a stacked depth chart in the frontcourt headed into the 2022-23 campaign but Kai Jones looks to use his versatility to take advantage of every opportunity in year two.
#Jones called his rookie season "a beautiful experience" at Hornets media day but looks forward to making a bigger impact this season.
#"With my athleticism, I can have a two-way impact," he said. "Lob threat, blocking shots, just being versatile."
#New Hornets head coach Steve Clifford called Jones "an exceptional athlete" and "phenomenal worker" when asked about his possible role in the frontcourt.
#"Kai [Jones] to me, right now, is more of a centre. He can play some four. Even for our league he's an exceptional athlete and physical. How quickly he puts himself in a place where he can legitimately play night in and night out in NBA games is just purpose of play," Clifford said.
#"For all young players, especially inside guys, that's the hardest thing. Playing to your strengths, helping your teammates play to their strengths, so we'll see."
#The Hornets return veteran centre Mason Plumlee, third year player Nick Richards and rookie Mark Williams all at the five spot.
#Jones came into training camp sporting the blue hair he had this summer when he made his debut with The Bahamas' senior men's national team.
#He said his hairstyle is inspired by several things, including his favourite anime.
#"The blue hair is for a lot of reasons, in The Bahamas our water is blue like this, the Charlotte Hornets' colour is blue and I love anime so Super Saiyan god Goku has blue hair, all of my anime fans out there know what I'm talking about so all of those reasons."
#Jones finished with 20 points and 10 rebounds against Venezuela and followed with 16 points and six rebounds against Argentina in the latest window of FIBA World Cup Americas Qualifiers.
#At the NBA level with the Hornets, Jones appeared in 21 NBA games this past season but played sparingly in few moments off the bench.
#He excelled at the G-League level on assignment with the Greensboro Swarm averaging 16.5 points on 61.4 percent shooting from the field – 32 percent from 3-point range – 9.6 rebounds, 1.1 assists, 1.1 steals and 2.1 blocks in 32 total G League games. He also posted 15 total double-doubles. The no.19 pick in the 2021 draft, Jones and the other members of the Hornets rookie class played sparingly as the Hornets chased a spot in the NBA playoffs. Jones highlighted his G-League campaign with a career high 30 points with nine rebounds in a 139-119 win over the Long Island Nets at the Greensboro Coliseum in North Carolina on March 27.
http://www.tribune242.com/news/2022/sep/27/jones-my-athleticism-i-can-have-two-way-impact/?news