As of Tuesday, November 29, 2022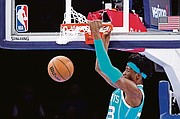 Kai Jones (AP Photo)
#By RENALDO DORSETT
#Tribune Sports Reporter
#rdorsett@tribunemedia.net
#KAI Jones has taken full advantage of his increased opportunities recently in the rotation for the Charlotte Hornets.
#Jones tallied nine points, 12 rebounds and one block across 28 minutes in Friday's 110-108 win over the Minnesota Timberwolves and followed with nine points and six rebounds in 22 minutes of last night's 140-105 loss to the Boston Celtics.
#"My confidence level has always been really high, just believing in myself and the work that I put in over the summer to develop into a complete player so I'm just going to continue to have faith in God.
#"My confidence comes from God really and believing he can take me where I'm destined to be," Jones said. "I'm going to try to stay even keel, continue to work on my game, get my shots up and work on all my stuff."
#The second year forward said earning increased opportunities will come from a trust developed with Hornets head coach Steve Clifford.
#"Trust is huge for me. Talking with [Clifford] in his office saying things like 'coach I'm going to do this this and that' and then go out and executing those things, for me it's huge because I gain the trust of him and the organisation," Jones said.
#"l can believe in him and he can say 'ok you listened so you can get your opportunity' the trust goes both ways and that's huge for any coach player relationship. It's big for the team because togetherness and synergy is huge in winning."
#The Hornets exercised the team option on Jones earlier this season and the extension on his rookie deal through the 2023-24 campaign.
#The 6'11 forward has appeared in 12 games this season after a rookie season where he appeared in just 21.
http://www.tribune242.com/news/2022/nov/29/hornets-jones-my-confidence-level-has-always-been-/?news