Hurdler Shamar Sands' bronze medal upgraded to silver
As of Wednesday, September 28, 2022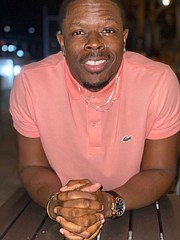 HURDLER Shamar Sands.
#By BRENT STUBBS
#Senior Sports Reporter
#bstubbs@tribunemedia.net
#TWENTY years since his achievement, Shamar Sands had his 2002 World Junior Championships bronze medal in the men's 110 metres hurdles upgraded to the silver after Chinese athlete Shi Dongpeng was stripped of his medal because it was discovered that he was too old.
#The decision to strip Dongpeng of the medal came over the weekend in an announcement that revealed that 11 cases at championships held between 2001 and 2013 that were investigated by the Athletics Integrity Unit. Nine were overage athletes with falsified entries, including five from Saudi Arabia and two underage athletes.
#"While this step has corrected some historic wrongs, age manipulation continues to be a concern in athletics, and the AIU is actively investigating more recent allegations of this nature," AIU chairman David Howman said.
#Age manipulation in international sports has been a long-standing problem.
#FIFA acknowledged in 2010 that cheating with overage players has been widespread in youth teams from Africa. Years after the 2000 Sydney Olympics, China was stripped of a bronze medal in women's team all-around because of an underage athlete.
#At the 2002 World Junior World Championships in Kingston, Jamaica, Sands clocked 13.67 seconds to trail Dongpeng, who got the silver in 13.58 and American Antwon Higgs, who claimed the gold in 13.42.
#While Higgs remains with the gold, Sands was moved up to the silver and Richard Phillips of Jamaica, who was fourth in 13.90, will be elevated to the bronze position.
#For 37-year-old Sands, who has since stopped running track after he graduated from Auburn University and is now working as an analyst for Mercedes Benz Corporate office in Atlanta, Georgia, said he gladly accepts the silver medal.
#"World Juniors was one of my most memorable track experiences apart from going to the Olympics," said Sands, who participated at the 2008 Olympics in Beijing, China.
#"I think that experience was very unique because it was in Jamaica and it had that Caribbean flair. "It was my first major international meet, so I hold World Juniors very near and dear to me."
#When he got the news from fellow Bahamian track mate, now agent/ coach Dominic Demeritte, who had informed him about the decision in an article posted, Sands said he was surprised.
#"Twenty years later, I am now a silver medallist and not a bronze medallist, I can't believe it," he stated. "World Juniors was a very special meet because it was a very special team. So I went back down memory lane thinking about it after I got the notice."
#Although it's something that he will cherish with his family, Sands said he's just happy to be able to achieve the medal, even though it's upgraded from the bronze he actually got at the time.
#Sands' elevation was celebrated on the local front.
#Mike Sands, the former president of the Bahamas Association of Athletic Associations and the current president of the North American, Central American and Caribbean (NACAC), said it's significant for the region because Sands is a part of NACAC and so they are delighted that both he and Phillips will be rewarded for their efforts 20 years later.
#And BAAA president Drumeco Archer said the sport is such a strange one in that many years later, World Athletics could still correct the errors that was made in the sport.
#"He's now going to be awarded the silver medal. There's some things about the sport that we have to pay close attention to and age limit is something that I thought would have been an easy catch," Archer said.
#"Suffice it to say, it was a human error.
#"We all make mistakes, but it's good when those mistakes are corrected and many years later, the mistake is corrected and he's now being recognised as the silver medallist on the World Junior Championship on that day."
http://www.tribune242.com/news/2022/sep/28/hurdler-shamar-sands-bronze-medal-upgraded-silver/?news