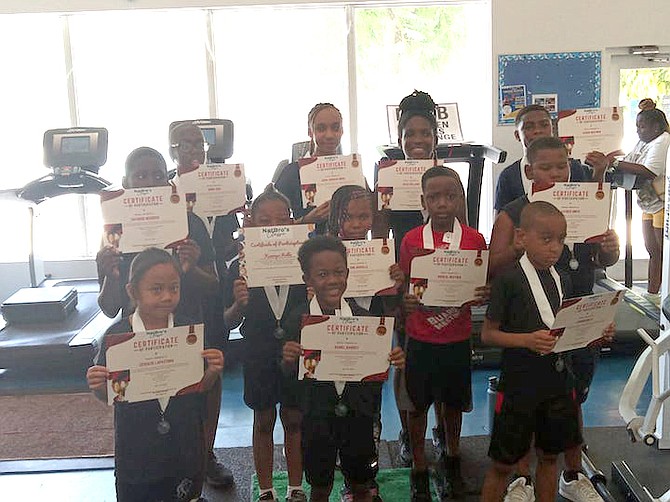 PARTICIPANTS with their certificates at the Bahamas Bodybuilding Wellness and Fitness Federation's inaugural youth bodybuilding championship at the University of the Bahamas on Saturday.
#By MALIQUE WALLACE
#Tribune Intern
#THE Bahamas Bodybuilding Wellness and Fitness Federation's inaugural youth bodybuilding championship on Saturday at the University of the Bahamas was a success.
#"Downtown" Natasha Brown, the first and only Bahamian female fitness pro, hosted the event.
#She says that she was glad there are kids still out there that were able to participate in the event.
#She explained that because many other kids and their families were travelling, there were only about a dozen, which was the final number she could gather up.
#Brown congratulated Eva Hilton, New Providence Classical and CW Sawyer, who came out on top with their athletes and showed determination as they performed.
#Her expectation was to kick-start the event and get it on right away. She was asked if her kids and or parents want to get started with exercise or into sports, would she recommend this type of environment?
#She responded by saying "it's not just for children who play sports or who don't play sports. We already know the long-time benefits of exercise. It's going to help children fight diabetes, hypertension, high blood pressure.
#"All these different things that kids are now contracting, adults with onset heart diseases, but the most important thing that I know and I'm challenging parents, let's find a correlation between exercise and academics," Brown said.
#Brown also said a lot of the kids that came up and performed, she recognised that their posture changed. Saying that if the kids are having problems sitting up in classrooms and not paying attention to the teacher, this is going to be one of the benefits they are going to gain, and their grades will improve at the end of the day.
#Asia Moss, who was one of the participants in the event, said she felt very excited and that it will benefit her in the long run. She said the different workouts helped her realise the difference in what she thought the exercises were going to be.
#Moss recommends kids her age, who want to get started in a different sport or just all-around exercise, come to this kind of environment.
#She said her mom felt great that her daughter participated and was very proud of her and is expecting great things from her in the future. She also recommends parents to get their children into fitness because it doesn't just keep their bodies healthy, it also develops their minds and keeps them focused.
#Selia Bullard, another participant in the event, said that she really enjoyed the event, and it helped her have a better mental state with fitness and to be more athletic.
#She says that the workouts she did were beneficial for her. She added that you would not only learn about exercise but other things as well and that the people around you would help you like it even more.
#Bullard's mother was with her at the event, and she said she was glad that her daughter participated, saying that since it's summer a lot of kids are inactive, sitting at home watching TV, so getting her involved with this event was beneficial.
#"Selia had a reason to wake up every day and get active."