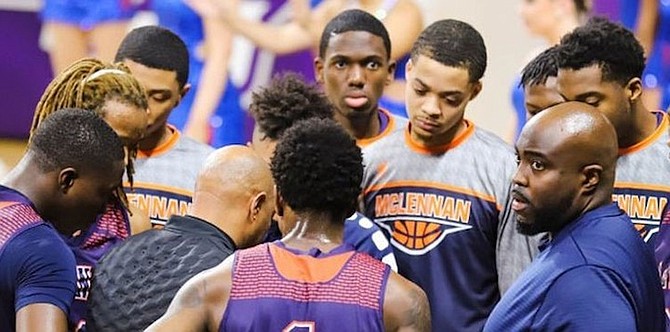 COACH GREENE, far right, in the huddle.
#By BRENT STUBBS
#Senior Sports Reporter
#bstubbs@tribunemedia.net
#BAHAMIAN basketball players have been making their presence felt in the National Collegiate Athletic Association (NCAA) and now Grand Bahamian former player Jamaal Greene is coming to the forefront as an assistant coach.
#Greene, 38, became the assistant coach in 2011 for the McLennan Community College Highlanders' basketball programme in Waco, Texas.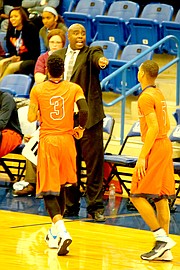 Coach Jamaal Greene giving some instructions.
#Since joining the staff, Greene has helped lead the Highlanders to three second-place finishes and four North Texas Junior College Athletic Conference Championships, including three consecutive championships from 2016 to 2018.
#The Highlanders earned an 8-6 conference record in 2019 to attain the programme's 17th consecutive Region V Tournament appearance, and they finished the season with an overall record of 22-9. McLennan's success on the court garnered Greene the Texas Association of Basketball Coaches (TABC) Junior College Assistant Coach of the Year honour in 2018.
#In 2016, Greene helped lead the Highlanders to the programme's first appearance at the Division I NJCAA National Tournament in Hutchinson, Kansas, since 1998.
#In Hutch (the well-known moniker for the tournament), the Highlanders defeated Marion Military Institute, marking the programme's first national tournament victory.
#In Greene's eight-year tenure with the Highlanders, the team has a combined record of 205-46 for an 82 winning percentage. Those teams have featured two NJCAA All-Americans and three NJCAA Academic Student-Athlete honourees.
#"I got into coaching after my senior year of playing college basketball in Arkansas," said Greene, who played for Northwest College from 2000-02/2004-05: Harding University from 2004-05. "My former coach at the time offered me a position as a graduate assistant. He told me that he always saw in me as a coach and that I had the qualities to be a good coach."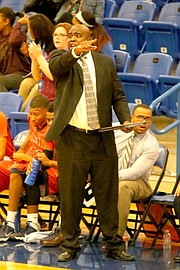 #Greene, who attended Bishop Michael Eldon, formerly Freeport High School, coached by Curt 'Six' Hollingsworth and Wayne Smith, left the Bahamas to complete his high school tenure with Coconut Creek High School in Florida, graduating in 2000.
#He then went on to play for Northwest College from 2000-02 before he played for Arkansas Tech University from 2003-04 and finally Northwest College.
#After his playing days were done, Greene spent four years as an assistant coach at Midland College. During his stint there, the Chaparrals made two consecutive trips to the NJCAA National Championships, captured three West Junior College Athletic Conference titles and compiled a 123-13 record in four years.
#The Caribbean Basketball Network named Greene the 2010-11 Coach of the Year for his tremendous work with student-athletes in the region.
#Before moving to Midland, Greene served as a graduate assistant coach at Harding University (Arkansas). He also worked as a colour commentator for NBA-TV for two years.
#Greene called it a rewarding experience so far.
#"Just like anything in life, you have your ups and downs, but I would not trade it for anything else in the world," he stated. "They say once you find something you love, you will never work a day in your life."
#Life, however, has not been the same since the coronavirus pandemic struck in March. But like other sporting disciplines that have been affected around the world, Greene said they are trying to get through the uncharted waters.
#"It is new to every programme across the country and the world," Greene pointed out. "For us here, we do a great deal of testing of our student athletes and staff.
#"We have certain protocols that we have to follow and maintain. We teach our student athletes to always be resilient and fight through any adversity, and so far they are doing it."
#The Highlanders will not know the true effect of the programme until their season officially gets underway on January 23, 2021.
#"I'm hoping that we can complete this season without having to shut it down because of the pandemic," Greene projected. "If we can stay healthy, I truly like our chances for competing in the postseason for the championship.
#"Moving forward in the future, I hope that this pandemic will be the thing of the past and we all can get back to whatever the new normal is."
#Once things get back to some type of normalcy, Greene said he would be looking at recruiting some Bahamian players for McLennan Community College.
#"I have coached a few players in the past," Greene said. "With this pandemic, it has made recruiting very difficult all across the board."
#While the pandemic has played a key factor this year, Greene said in the past the road to getting players from the Bahamas into colleges and universities in the United States has not been an easy one.
#"It has not been easy because of the lack of exposure, lack of proper training and facilities that student athletes in America have at their disposal," he pointed out.
#"If you look at the trend you are seeing with up and coming Bahamian student athletes, a lot of them have left the Bahamas at adolescent years to come to high school or prep schools here in America."
#As one of those who benefitted from the move, Greene said it has helped tremendously because of the opportunities and proper training.
#"That has allowed them now to be on an even playing field with American student athletes," Greene said. "We all know if you give a Bahamian an even playing field we always shine and come out on top."
#Greene, who also played on the Bahamas junior national basketball team that won silver and gold medals in 1998 and 2000 respectively, was a prime example of taking advantage of the opportunities that avail any other Bahamian.
#He went on to earn his bachelor's degree in communication management from Harding in 2005 and a master's degree in kinesiology from Harding in 2007.
#But Greene, who is now married to Kari Greene and they are the proud parents of a daughter, Jayada, and a son, Kanaan, said he would certainly like to give back to the Bahamian basketball fraternity.
#"I would love to have the opportunity to get involved with and be a part of the national basketball programme back home in the Bahamas," Greene said.
#"I was on the junior national teams many moons ago when I was coached by legendary coach Charlie 'Softly' Robins where we won a silver medal in Guyana and a gold right there in Nassau.
#"I had some of my fondest basketball memories playing on the junior national team. I feel with my knowledge and experience, I would love to help coaches and players back home in the Bahamas."
#In the meantime, Greene is trying to niche his name as a collegiate coach in the USA.