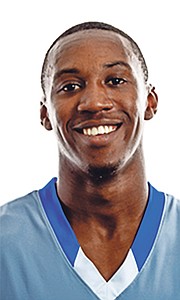 Jaron Cornish
#By RENALDO DORSETT
#Tribune Sports Reporter
#rdorsett@tribunemedia.net
#AN NCAA Division I programme will be the next step in the progression of the basketball career of Jaron Cornish.
#Cornish will debut for the Stony Brook Seawolves this fall as a junior college transfer, highlighting the programme's 2017 recruiting class.
#"We are very excited to add Jaron to our basketball family," said Seawolves head coach Jeff Boals. "He is a great addition to our team and the Stony Brook community. He will add great depth to our guard spot after graduating three starters from this year's team."
#Cornish transfers to Stony Brook after completing two NJCAA seasons with the Broward College Seahawks in Fort Lauderdale, Florida.
#As a sophomore, he averaged 18.7 points and 4.5 assists per game on 42 percent from three point range. While leading his team in nearly every offensive category, Cornish was also one of the top players in the NJCAA and ranked in the top 50 Division I JUCO players in the nation in free throws made, made free throws per game, total points, steals and points per game. Cornish tallied 11 20-plus point games last season.
#Seahawks head coach Bob Starkman said Stony Brook is getting a great player: "He is one of the nicest, hardest working players I've ever coached. He has done everything I've asked and it has paid off for him."
#During his Seahawk career, Cornish produced 800 points, 199 rebounds, 216 assists, 118 steals and 37 blocks. This year, Cornish started 30 of 31 games played and led the Seahawks in field goals (187), field goal attempts (408), three-pointers (60), three-point attempts (143), three-point percentage (42.0), points (581), assists (139) and steals (61). In the NJCAA Division 1 statistics, Cornish finished 21st in free throws (147), 26th in free throws per game (4.7), 40th in points, 46th in steals and 50th in points per game (18.7). Cornish finished second in the NJCAA Region 8 statistics in free throws per game (4.7), fifth in free throws, fifth in points, sixth in points per game, sixth in field goals, sixth in steals, seventh in steals per game (2.0), 10th in assists, 11th in field goals per game (6.0), 12th in three-point field goal percentage, 13th in assists per game (4.5), 18th in three-pointers, 21st in three-pointers per game (1.9), 26th in blocks (22), 33rd in blocks per game (0.7), 35th in free throw percentage (69.7), 37th in games played and 50th in field goal percentage (45.8). As a freshman, Cornish was selected to the Southern Conference All-Academic team. He started 10 of 31 games played, contributing 219 points, 83 rebounds, 77 assists, 57 steals and 15 blocks. Cornish finished fifth in the NJCAA Region 8 statistics in steals, eighth in steals per game (1.8), 27th in games played, 33rd in assists, 34th in assists per game (2.5), 41st in blocks and 47th in blocks per game (0.5). Cornish capped his career by being named first team All-Southern Conference. His contributions helped the Seahawks win the 2017 Southern Conference Tournament and advanced to the FCSAA/NJCAA Region 8 Tournament for the first time since 2011.
#Cornish a native of Abaco, rose to national prominence with head coach Wayne Adderley's Agape teams which reached a Hugh Campbell Final Four for the first time in school history in 2013.
#From there, he spent his final two years of high school at Champagnat Catholic High School in Hialeah, Florida. Alongside fellow Bahamians Nashad Mackey and Oswald Parker, he helped lead the Lions to statewide recognition.
#Cornish averaged 17.5 points, six assists and five rebounds per game as a senior as the Lions finished the season at 26-2 and lost in the Regional Semi-finals of the Florida High School Boys FHSAA basketball tournament.
#He was also named to the Miami Herald's All-Dade first-team.
#Stony Brook finished the 2017 season with an 18-14 record and in the post season, lost in the opening round of the CBI. In 2016, they reached the NCAA Tournament for the first time in school history.