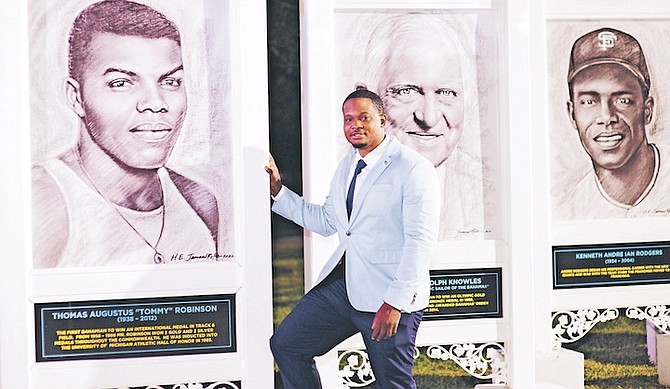 CELEBRITY Artist and culture ambassador Jamaal Rolle with portraits on the Legends Walk of Fame. Photo: Moise Amisial
As of Friday, December 2, 2022
#By BRENT STUBBS
#Senior Sports Reporter
#bstubbs@tribunemedia.net
#BAHAMIAN celebrity artist Jamaal Rolle may have outdone himself in producing the 69 portraits of past and present Bahamian sporting superstars for the relaunch of the Legends Walk of Fame outside of the Thomas A Robinson National Stadium.
#Rolle, who has drawn portraits of so many world famous persons from Bahamians to foreigners, said he started the first batch of portraits in 2014, again in 2015 and then in 2019 before they were taken down because of Hurricane Dorian.
#"I'm happy that the Local Organising Committee approached me about redoing the Legends Walk of Fame because it gave me a chance to redo those that were damaged and then I got to add the three new ones," Rolle said.
#"This serves as a landmark for the country. As often as I passed by, I would see tour guides bringing the tourists here and when I checked on trip advisor, the Legends Walk of Fame was one of the things they listed as something to see.
#"The impetus behind this was to inspire the youngsters, who would one day aspire to be among this list of sporting heroes," Rolle said. "I know for me, I never really got to go to the airport to travel until I was an adult.
#"But I always came as a child for sports day at school. So to see this here, I think it's good to have something that can inspire the youngsters. For me, to be an inner-city boy becoming an accomplished artist to do something as grand as this."
#What fascinated Rolle the most about the project was the amount of Major League baseball players the country produced – six to be exact – who were all included in the variety of sporting personalities displayed for all to see.
#"The late Sir Durward Knowles and I had a father-son relationship, He and I were very close. We were Rotarians," he said. "I always heard of Elisha Obed and Yama Bahama, so to use my craft and express that in a drawing was a challenge I took.
#"It was good to do a portrait of Anthony Carroll, the bodybuilder, my ambassador collegiate Rick Fox from basketball, the Golden Girls, who are all my friends and I remember when the country erupted that night when they won, along with the Golden Knights. Mark Knowles was a mixed doubles champion at Wimbledon in tennis and Mychal 'Sweet Bells' Thompson, the first Bahamian drafted in the NBA."
#Rolle said it's so good to see the diversity of athletes young and old in so many disciplines being placed on this Legends Wall of Fame is just a sight to behold.
#Andy 'Smudge' Ford, who has three of his siblings, including Major leaguer the late Wenty Ford, multiple star Eddie Ford and softball pitcher Linda Ford, said the portraits were all well done.
#"It's really a good reflection of all of them and they brought back a lot of memories," said Ford, who is an accomplished baseball/ softball player. "It was wonderfully done, can't ask for anything more nor anything less."
#Patricia McKenzie said she was so impressed that she wanted to congratulate Rolle and to check to see if he could do some personal portraits for her family. "I think the work is beautiful. They are awesome," she said. "To see how much talent we have in this country is just phenomenal. He's one of our uprising artists in the whole world. He did the Prince and he did the Queen. I just thought I would come up and congratulate him for the great work he has done with all of our legends."
#Two of the living legends, strongwoman Lavern Eve and sprinter Debbie Ferguson-McKenzie were equally impressed with what they saw. "I think this is a fantastic idea. I'm glad they brought it back," said Eve, a multiple national star, but the first athlete to repeat as the Austin Sealy Award winner as the most outstanding athlete at CARIFTA in 1992 and 1993.
#"People just think of track and field, but I'm glad to see all of the legends who came from the different sports. This gives the country a chance to see a variety of people who excelled. I don't consider myself as a legend. I just believe that I was blessed by God with my talent and I made good of it."
#Having gotten her first glimpse of all of the portraits, Eve said Rolle should be commended for a "great job" because "they look just like the people in real life."
#She noted that he certainly did a great job.
#Ferguson-McKenzie, who also won the Austin Sealy Award in 1995, couldn't agree more.
#"I am so honoured to be here. When we were included, I know this is going to sound crazy, but I forgot about it," said Ferguson-McKenzie, referring to the Golden Girls – Eldece Clarke, Savatheda Fynes, Chandra Sturrup and Pauline Davis-Thompson, who were all included at the same time.
#"It's so nice to be back and to watch Shaunae (Miller-Uibo), Stevie (Gardiner) and Anthonique (Strachan) joining the list on legends, is just amazing."
#Ferguson-McKenzie was taken aback when she saw a portrait of her long-time coach Frank 'Pancho' Rahming. She was speechless just to know that he was included in the Legends Walk of Fame.
#The relaunch of the Legends Walk of Fame came on the same day as the Ministry of Youth, Sports and Culture officially launched the return of the CARIFTA Games for the 50th celebrations here at the stadium from April 7-10, 2023.
#At the same time, the Bahamas Association of Athletic Associations was celebrating as they received the good news that World Athletics, the governing body for track and field, had re-awarded the Bahamas the World Relays in 2024, marking the fourth time that the event will take place here.
http://www.tribune242.com/news/2022/dec/02/jamaal-rolle-legends-walk-fame-serves-landmark-cou/?news