As of Tuesday, November 22, 2022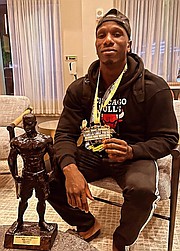 JASON Johnson shows off his medal and trophy won at NCP Atlantic Coast Championships held at Hilton Fort Lauderdale Marina in Florida.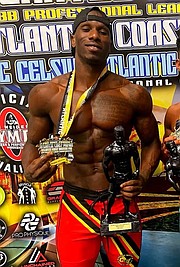 #By BRENT STUBBS
#Senior Sports Reporter
#bstubbs@tribunemedia.net
#AFTER taking a year off to further develop his physique, Jason 'Jay Shred" Johnson returned to the international stage where he participated in a National Physique Committee (NPC) over the weekend and returned home with another title.
#Competing in the 2022 NCP Atlantic Coast Championships at the Hilton Fort Lauderdale Marina in Fort Lauderdale, Florida, Johnson won the Men's Physique Open Class D divisional title over five other competitors. The event was a Tim Gardner Production.
#"I love the event because the NPC side takes care of their athletes," said Johnson, a professional bodybuilder. "I went there with a very nice physique and I felt the calibre of athletes competing brought the best out of me.
#"As soon as I walked out on stage and the judges saw me, they put me directly in the middle of the lineup of the placement. I think I was the clear winner once I walked out on stage. So I'm very happy with my performance."
#While this was the 11th show that Johnson has competed in since he turned pro in 2018, this was his first one for the year. His last appearance was last year in Santo Domingo in an IFBB show where he was also the winner of his division.
#"I feel really good. I worked on certain body parts and I got to bring a complete package for the show," Johnson said. "I did about five shows last year, but since then I improved on my size, especially my back and my legs and it showed.
#"I think this was the right time for me to come back. My comeback was really good. I got a lot bigger and so I'm really pleased with my physique after taking the year off. I looked very good and I felt very good."
#The 31-year-old Johnson, who co-manages the Gains 4 Life Club with Lorraine LaFleur, said he spent a great deal of time preparing for his return to the stage. He said he's ready to assist anybody else who wants to get involved in the sport or just to get rid of some excess weight.
#He urged persons to contact him at 432-5165 and ask for "Jay Shred" and he will be willing to assist in any way he can.
#In the meantime, Johnson said he will continue to improve on his physique so that he can be the best professional bodybuilder possible.