http://www.tribune242.com/news/2022/nov/22/mcphee-mccuin-and-ole-miss-rebels-top-flyers-63-50/?news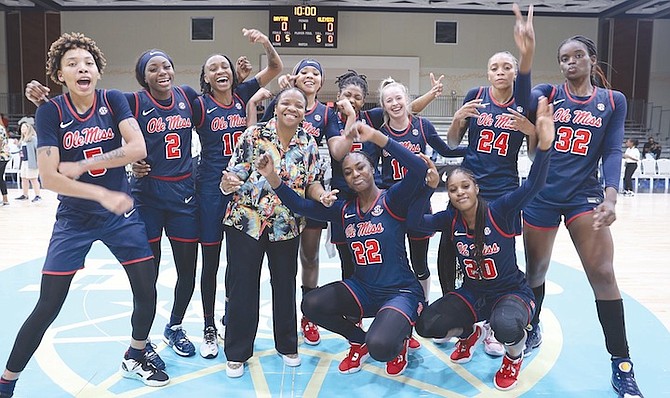 BAHAMIAN coach Yolett McPhee-McCuin and her Ole Miss Rebels celebrate last night after winning their opening game of the Baha Mar Hoops Pink Flamingo Championship at the Baha Mar resort. Ole Miss stayed undefeated in five games this season, sealing an impressive 63-50 win over the Dayton Flyers. Photos: Austin Fernander/Tribune Staff
As of Tuesday, November 22, 2022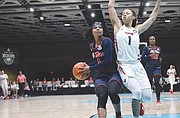 #By BRENT STUBBS
#Senior Sports Reporter
#bstubbs@tribunemedia.net
#It was a grand homecoming for coach Yolett McPhee- McCuin as her University of Mississippi Rebels ran away with their opening game of the Baha Mar Hoops Pink Flamingo Championship at the Baha Mar resort last night.
#Ole Miss didn't disappoint McPhee-McCuin either as the Rebels stayed undefeated in five games this season, sealing an impressive 63-50 win over the Dayton Flyers, coached by Tamika Williams-Jeter, who remained winless at 0-5.
#"We showed a level of toughness throughout adversity," said McPhee- McCuin as they fought off a stiff challenge from the Flyers in the second half and particularly at the start of the fourth period.
#And winning on home soil was just incredible for McPhee-McCuin, who expressed her gratitude for the tremendous support she got from her family and friends, who came in from her hometown of Grand Bahama, led by her parents Daisy and former national coach Gladstone 'Moon' McPhee.
#"For me this means a lot. I got emotional. We're a proudful people in the Bahamas," she said. "So for me, this means a lot. I got emotional. I was born and raised in the Bahamas, so for me to come here and be able to play and have my team step up."
#Forward Tyla Singleton came off the bench and poured in 14 points with 13 points in the paint, while Marquesha Davis was the only other player in double figures with 10 points, five rebounds and two steals.
#But Ole Miss had six other players who scored to produce a balanced attack.
#Angel Baker connected on nine, Madison Scott had eight, both Myah Taylor and Destiny Salary chipped in with seven and Snudda Collins helped out with six.
#For Dayton, Destiny Bohanon was the only player in double figures with 11 points. Anyssa Jones was their next best scorer with nine and seven rebounds, both Nayo Lear and Taisitya Kozlova had eight each. Ole Miss, coming into the arena with the sound of junkanoo music as McPhee-McCuin acknowledged the crowd, opened the game with the first basket to get off on the right foot.
#The Rebels, getting a challenge from the Flyers, held on for a slim 17-15 advantage at the end of the first quarter as both teams tightened up on their defence.
#After falling behind 21-19 early in the second quarter, Ole Miss applied the pressure and got a couple of stops to surge back out front 26-21. They went on to hold onto a 30-25 half-time margin.
#Although the Flyers came out of the intermission with some momentum, it wasn't enough to derail the Rebels, who maintained no less than a four-point lead, until they gave up the final two points on a fast break layup for a slim 42-40 margin. After watching Dayton rally to even the score at 44-44, Ole Miss went on a 14-0 tear to pull ahead 58-44.
#Both teams were 5-5 down the stretch, but it didn't matter as Ole Miss held on for the win.
#In the earlier games played, the Missouri Tigers def. Wake Forest Deacons 69-47, University of Utah Utes def. the Alabama Crimson Tides 93-68 and the Virginia Tech Hokies def. Kentucky Wildcats 82-74.
#Tigers 69, Deacons 47
#The Tigers stayed undefeated in six games, but missed the opportunity to see four players reach double figures for the third time this season.
#Forward Hayley Frank canned a game high 20 points with two assists and Katlyn Gilbert added 11 points with five assists and two rebounds. Centre Jayla Kelly had nine points and 10 rebounds and guard Haley Troup ended up with nine points as well.
#Wake Forest, who made their first trip outside of the US since 2014,, saw forward Olivia Summiel score 12 points with six rebounds and four assists and forward Demeara Hinds had nine points and nine rebounds.
#Utes 93, Crimson Tides 68
#Utah had a balanced scoring attack with four players in double figures as they went on to score 80 or more points for the fifth time this season.
#Guard Gianna Kneepkens led their attack with 21 points, four rebounds and two assists, forward Alissa Pili had 18 points, five rebounds and two assists, forward Jenna Johnson had 17 points, five rebounds and three assists and guard Isabel Palmer added 12 points with a pair of rebounds and assists.
#Utah came from a 31-23 deficit at the end of the first quarter and trailed 52-48 at the half. But they used a 27-16 run in the third to post a 75-68 advantage after three and held on for the win.
#Alabama, with their guards leading the way, got a game high 23 points from Brittany Davis with five assists and three rebounds, Aaliyah Nye had 17 points, three assists and both Loyal McQueen and Megan Abrams had 15 points.
#Hokies 82, Wildcats 74
#No.14 Virginia Tech opened an impressive 29-8 lead at the end of the first quarter and 44-23 at the half. They came out of the locker room and went into a scoring spree with Kentucky in the second half, but managed to hold on for the win.
#Centre Elizabeth Kitley led four players in double figures with a game high 25 points, 13 rebounds, three block shots and two steals.
#Guard Ashley Owusu had 16 points, six rebounds and two steals, forward Taylor Soule added 15 points with seven rebounds and guard Georgia Amoore contributed 14 points with four assists,
#Kentucky, in dropping their first game in five appearances this season, trailed by 18 entering the final period but outscored Virginia Tech 25-15 in the fourth quarter, but it was not enough.
#The Wildcats got 17 points from guard Jada Walker and 12 points from forward Ajae Petty.
#Guard Robyn Benton had 13 points, while guard Maddie Scherr had six points, seven rebounds and four assists before fouling out. With today off, the teams will play their final game in the tournament on Wednesday.
#• Here's a look at the schedule of matches on tap:
#WEDNESDAY
#11am – Alabama vs
#Wake Forest
#1:30pm – Missouri vs
#Virginia Tech
#4:30pm – Kentucky vs
#Dayton
#7pm – Ole Miss vs Utah
http://www.tribune242.com/news/2022/nov/22/mcphee-mccuin-and-ole-miss-rebels-top-flyers-63-50/?news