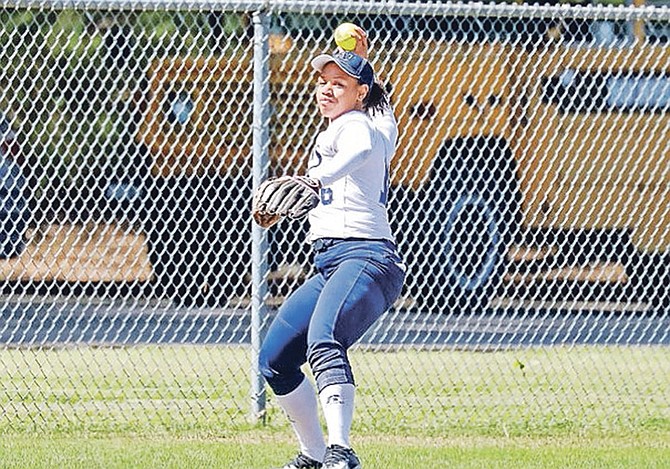 Celine Jones
#By BRENT STUBBS
#Senior Sports Reporter
#bstubbs@tribunemedia.net
#GRAND Bahamian versatile athlete/beauty queen Celine Jones may have lost her number one supporter, her father Oral 'Big O' Jones, after her freshman season at Saint Augustine's University in Raleigh, North Carolina.
#But having endured a tumultuous career on the softball field for the Falcons over the next two years, Jones was recognised for her contribution off the field in her final year by being nominated for the 2020 NCAA Woman of the Year Award.
#Jones, a 2015 graduate of Bishop Michael Eldon, is among a list of 605 nominees for the award, which highlights a graduating female student-athlete who made a mark in athletics, service and leadership during her time in college.
#The nominees were announced on Tuesday and a committee will choose the top 30 honourees, and from that group, nine finalists will be announced before the NCAA Woman of the Year is named in the fall.
#"Compared to everything that is going on and how my tenure at St Aug turned out, I feel it's something positive out of all of the negatives that I went through," Jones said. "It's just good to be recognised even if I am not the winner."
#Jones, a former field competitor in athletics at Bishop Michael Eldon and a budding bodybuilder in the Bahamas Bodybuilding Federation, completed her tenure at St Aug on May 9 with an exercise science degree and a 3.73 cumulative grade point average, but will have to wait until the fall for the actual graduation because of the coronavirus pandemic.
#With this being her senior year in softball, Jones said she was finally healthy and ready to compete for the Falcons, she had intended to do her internship at Duke in her major of exercise science as she pursues her goal of becoming a sports nutritionist and then travel to Italy for a two-week graduation gift to herself, but all of that was quashed when the virus started to spread in March.
#"The week when everything started to shut down, we were scheduled to leave that Wednesday to start our tournament on Thursday," she recalled.
#"As the co-captain of our team, we were making plans for the team and around 8pm we were told it was postponed. By 10pm, they told us it was cancelled."
#After helping the Lady Falcons' softball team win two CIAA Team Highest GPA Awards in the sport, including one this season, Jones said it was quite disappointing that their season was called off due to the coronavirus.
#With no spring break, Jones was advised that it was okay to stay on campus, only to find out that the borders were closed and the school instructed the students that they had to leave.
#"I had to find an apartment to stay in because I couldn't go home," Jones said. "From what I was reading, I thought they had a hold on the pandemic, but they didn't.
#"We had a two-week shutdown and after the two weeks, it went to three months and all of the opportunities that I wanted to do outside of school were also cancelled."
#As a personal trainer, who worked at Olympic Heights in the Circle Mall after she took a year off following her graduation from Bishop Eldon before she left for St Aug in 2016, she said her ultimate goal is to start her own physical fitness business, which she intends to label 'Get Lean with Celine' when she returns to Grand Bahama. "I was working on saving up money for my strength and conditioning, but now that money has to go to rent because I have bills," said Jones, who did two years of bodybuilding, winning the junior national title twice in 2015 and 2016 and placing third in the novice.
#As a result of the death of her father during the summer of 2017, Jones said the start of sophomore year was a difficult one for her. But after an even more adventurous junior year, Jones said she was looking for things to turn around in her senior year.
#"But then come September and we got hit by Hurricane Dorian in Grand Bahama," Jones recalled. "My mother, Cestina Nixon, was using BTC and their service went down and I wasn't to stay in communication with them for about a week.
#"But one of the reasons I got the nomination was because of my contribution outside of athletes."
#Jones, 23, said once she found out that her family was safe and secure, through her sorority platform as Miss Kappa Alpha Psi, she began a feminine drive to assist women in Grand Bahama, who lost everything, and provide some comfort to them on a whole.
#"So I put up a campus all around our campus and I collected personal items that women use," she stated.
#"I went on the ABC station in our area and the present president of the Bahamian-American Students Association went on TV with me and we had some people perform junkanoo music as people brought in their supplies."
#Her entire dorm was furnished with supplies that Jones was able to have shipped to Grand Bahama for distribution to those in need. Jones thanked an elderly lady in Raleigh, who rallied behind her to ensure that the supplies were properly packed and shipped off.
#"When I came home in December, they did a Christmas Wonder Drive Holiday Festival where they gave out free groceries and toys with live music and rides and games for the kids," Jones said. "That was my second check point on my list. But it was so delightful for me to do that for the people."
#At St. Aug., Jones got to graduate, which capped off the requirement for her domination for the award.
#As a walk-on for the Falcons' team, where she played second baseman and outfielder, Jones didn't get to play in her final year because of the pandemic. But based on what they did during the pre-season, she anticipated that they would have done extremely well this year.
#"It's been four long years," said an emotional Jones, who noted that she wore number nine to commemorate the number her father wore as a basketball player.
#"My father died in the summer of my freshman year and he was taking care of me financially, so mentally and financially, I didn't know if I wanted to go back to school. My first semester as a sophomore, I struggled. Technically it was my worst year because I made a 3.1 or 3.2 and I got my first C, but it was in calculus, so I didn't feel so bad."
#A well-rounded student-athlete, Jones was selected an Arthur Ashe Jr. Sports Scholar in 2020. The honor recognizes outstanding student-athletes across the country who excel in academics and athletics in addition to campus and community service. She was one of three SAU student-athletes who earned the accolade, a feat she felt she could not achieved without thinking about what her father instilled in her.
#"After all of the games I played in my freshman year, me and my father talked about it as we analyzed what I did and didn't do right," Jones remembered. "We were on a winning streak at one point and he was encouraging me.
#"But after he died, I didn't want to play anymore during my sophomore year. Then my junior year, they asked me and I told them I would play. I ended up getting sick and because the team was going through a lot of injuries, I still decided to play.
#"I had a tooth abstraction that left my gum swollen. I was in pain and I think I lost about 20 pounds in two weeks. My jaw was still swollen. During the season, I barely ate. I only could crew on mash potatoes and things that were soft."
#Having to play at least two games a day, Jones said it took its toll on her, but she managed to get through it.
#"My senior year was supposed to be my comeback year. I was healthy. Physically I was good. Mentally I was ready. Then we got hit by the pandemic."
#As she reflects on her entire journey, Jones said she dedicated it all to her deceased father.
#"I have a saying that says 'I'm Big O Strong' because his strength is my strength and I continue to live by that," she summed up. "That has been my motivation."
#Once she completes her tertiary education, Jones said she plans to return home. But in the meantime, she will start her sports nutrition business online and then she will focus on its physical presence when she is done.
#"Once I get certified, I intend to let people know about my business," she stressed. "I love working with athletes because I am an athlete. And I want to encourage athletes to make the best of their opportunity to be the best that they can be in whatever field they are in."