Miller-Uibo Named To Newly Created Taa Board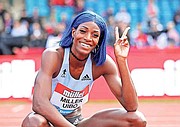 Shaunae Miller-Uibo
#By BRENT STUBBS
#Senior Sports Reporter
#bstubbs@tribunemedia.net
#Bahamian Olympic champion Shaunae Miller-Uibo was among a list of 24 athletes named to the newly created board called The Athletics Association (TAA) that was formed to safeguard the global interest of track and field athletes.
#In a press release, the AA said the board was formed to provide track and field athletes with a meaningful voice, to fight for stronger athletes' rights and to seek an athletes-first approach to our sport.
#While the association seeks to stage dialogue with World Athletics, they will also hold the governing body of the sport accountable when necessary and challenge them if they are not acting in the best interest of the athletes.
#"We will offer suggestions and alternatives that would include all stadium disciplines, and would benefit athletes and fans, as well as the long term interests of this diverse and wonderful sport," the AA said in a statement.
#Miller-Uibo, the 2016 Rio de Janeiro Olympic 400m champion and 2019 Doha, Qatar World Championships silver medallist, will represent the Caribbean on the board along with Jamaica's Shelly-Ann Fraser-Pryce, who last year won an unprecedented fourth World 100m title in Doha, Qatar, and hurdler Mikel Thomas from Trinidad and Tobago.
#American Christian Taylor, a four-time World triple jump champion, will serve as the association's inaugural president and American steeplechaser Emma Coburn is the vice president.
#The board is made up of representatives from every continent and comprises 24 athletes, including American sprinter Allyson Felix, decathlete Ashton Eaton and sprinter/long jumper Tianna Bartoletta; England's heptathlete Katarina Mary Johnson-Thompson; African javelin thrower Julius Yego and New Zealand's shot putter Tom Walsh.
#"I am very proud of the progress made by the members of the Athletics Association Board. Since its initial inception, a lot of work has been put in to establish the right governance and long-term viability that is essential to do justice to the athletes we represent," Taylor said in the release.
#"It's this that has attracted the commitment and support of the athletes on the Board. We have athletes from every continent, and a wide variety of disciplines; we are made up of Olympic and World champions, as well as world record holders and continental champions."
#Taylor, a close friend of Bahamian national triple jump record holder Leevan 'Superman' Sands, said in addition to the board members, there are so many other athletes who have helped get us to this stage.
#World Athletics recently published a strategic plan, and athletes have been identified as key stakeholders. "The Athletics Association provides a representative voice and a simple way for the sport's governing body to follow through on their commitment. We are ready to contribute to the growth of the sport that we love, ensuring that athletes are part of the decision-making process," Taylor said.
#"This association is for the athletes, by the athletes, and we are determined to make a real difference. We firmly believe that we can affect positive change in our sport. We are ready for the challenge."
#Further in their release, the AA revealed they have been busy developing a number of support services and member benefits for athletes, including a hardship grant fund, training courses, and discounts on products.
#However, the statement notes that details of the full annual membership package will be announced ahead of the full roll-out in January 2021. The association will also engage World Athletics and the Diamond League stakeholders in talks about changes to the Diamond League schedule that were announced for 2020. Those changes included removing the 200m, triple jump and discus from the Diamond League circuit, relegating those events to a newly formed Continental Series. "We will offer suggestions and alternatives that would include all stadium disciplines, and would benefit athletes and fans, as well as the long term interests of this diverse and wonderful sport," the statement said.
#The association will also seek to secure a seat on the World Athletics board so that they can voice their opinion on the decision-making in the sport on behalf of global members and providing a plan with innovative ideas for the growth of the sports, as well as produce a welfare charter that will contain a membership package beginning in January 2021 for courses on issues such as financial literacy, life after athletics and discounts on products.