Jonquel Jones and Sun on a roll, win five of six games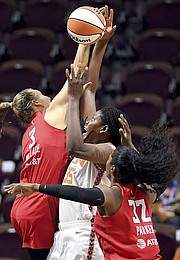 CONNECTICUT Sun forward Jonquel Jones (35) puts up a basket from between Atlanta Dream guard Kristy Wallace (3) and forward Cheyenne Parker (32) during a WNBA basketball game on Wednesday night in Uncasville, Conn. (Sarah Gordon/The Day via AP)
#By RENALDO DORSETT
#Tribune Sports Reporter
#rdorsett@tribunemedia.net
#JONQUEL Jones and the Connecticut Sun posted their highest scoring output of the season and won their fifth game in their last six outings.
#Jones finished with 15 points, nine rebounds and two blocked shots in the Sun's 105-92 win over the Atlanta Dream on Wednesday night at the Mohegan Sun Arena in Uncasville, Connecticut.
#It was Jones' eighth game with at least 15 points this season.
#The Sun shot 52 percent from the field, 54 percent from three-point range to improve to 11-4 with their fifth win in their last six games.
#Sun head coach Curt Miller said the team adjusted to the Dream's defensive focus on limiting the reigning MVP.
#"They provided so much congestion in the lane that they were not going to let Jonquel get going around the rim, they were going to congest things for Alyssa Thomas, so we knew we were going to have to make some jumpers," he said. "That's what they were giving up and our players took it."
#The Sun also improved to 4-2 in the Commissioner's Cup, second only behind the undefeated Chicago Sky at 7-0.
#The Commissioner's Cup presented by Coinbase is the league's annual in-season competition, with a prize pool of $500,000 in the championship game for the players and at least $165,000 in charitable donations throughout this year's series.
#This year, the Commissioner's Cup will feature a new platform through which teams will provide funding to local nonprofits, and the league and teams have collaborated to select organizations in each market focused on civic engagement.
#The WNBA will donate $2,000 to the chosen organisation of each cup game's winning team and an additional $500 to the losing team's organisation.
#The league will donate $10,000 to the winning team's chosen organisation and $5,000 to the organisation of the runner-up.
#The Sun are playing for the League of Women Voters of Connecticut.
#The Sun boast one of the tallest lineups in the WNBA featuring Jones (6'6"), DeWanna Bonner (6'4"), Brionna Jones (6'3") and Alyssa Thomas (6'2").
#The Sun have seven games remaining before the league's All-Star weekend.
#They face the Seattle Storm on Friday, followed by four consecutive Commissioner's Cup games against the Washington Mystics (June 19), the New York Liberty (June 22), the Dream (June 26) and the Sky (June 29).
http://www.tribune242.com/news/2022/jun/17/jonquel-jones-and-sun-roll-win-five-six-games/?news