McPhee-McCuin lands star-studded recruiting class for Ole Miss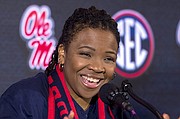 Yolett McPhee-McCuin
#By RENALDO DORSETT
#Tribune Sports Reporter
#rdorsett@tribunemedia.net
#ON the heels of a record-setting season and a new contract extension, Yolett McPhee-McCuin has landed another star-studded recruiting class for her Ole Miss Rebels women's basketball programme.
#McPhee-McCuin's incoming class includes highly touted freshman prospects and some of the top-rated transfers in the portal.
#The class was recently bolstered yesterday by the signing of 6'4" freshman centre J'Adore Young.
#The class also includes four-star freshman Ayanna Thompson along with transfers Marquesha Davis, Elauna Eaton, Rita Igbokwe, Broke Moore, Tyia Singleton, Myah Taylor and international prospect Marta Ostojic from Croatia.
#Ole Miss also returns a solid trio of experience, including starters Madison Scott and Snudda Collins, as well as the SEC's Sixth- Woman of the Year in Angel Baker.
#After much speculation on social media following their exit from the NCAA Tournament in April, McPhee-McCuin reassured the Ole Miss fanbase of her commitment to the programme. She shortly thereafter signed a contract extension that will see her remain at the helm through the 2026 season.
#"I am humbled and grateful for the support from chancellor Boyce, athletics director Keith Carter, senior women's administrator Jennifer Saxon and the rest of our administration," said McPhee-McCuin.
#"Their commitment recognises the accomplishments that our programme has achieved, reflects their belief in the long-term vision that has been put into place, and demonstrates their unwavering trust of the success of our programme in the future. In addition, I'm thankful for the loyal support of our faculty and staff, boosters and our fans. I am looking forward to building on the foundation of our success and continuing to lead a programme that represents our fans, the university and the state of Mississippi."
#The 2021-22 season came to an end for Ole Miss in the opening round of the NCAA Tournament with a loss to South Dakota.
#Ole Miss concluded the season 23-9, 10-8 in the SEC to earn an at-large bid and the no.7 seed in the Wichita Region. It was their first NCAA Tournament appearance in 15 years.
#McPhee-McCuin led Ole Miss to its first top 25 ranking since 2007.
#The season was highlighted by a 13-game win streak, the third longest win streak in programme history. It also included wins over three ranked opponents. In conference postseason play, Ole Miss earned its first SEC Tournament Semifinal game appearance in 29 years. The Rebels also found themselves slotted in the national polls with its first AP Poll appearance since 2007, when Ole Miss came in at No. 24 on January 24.
#McPhee-McCuin also recently produced the highest drafted Ole Miss player in programme history when Shakira Austin was recently selected third overall by the Washington Mystics.
#McPhee-McCuin joined the Rebels in 2018 with expectations to rebuild a programme that struggled in recent years and was in the cellar of the SEC.
http://www.tribune242.com/news/2022/jun/17/mcphee-mccuin-lands-star-studded-recruiting-class-/?news