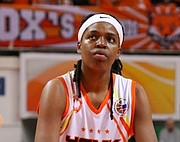 Jonquel Jones
#By RENALDO DORSETT
#Tribune Sports Reporter
#rdorsett@tribunemedia.net
#JONQUEL Jones celebrated her 27th birthday with a double double the following night to lead another dominant performance for her UMMC Ekaterinburg Foxes in the Russian Premier League.
#Jones finished with 20 points and 11 rebounds (both team highs) in a 99-42 win over Nika Syktyvkar Wednesday in Ekaterinburg, Russia.
#She shot 6-11 from the floor, made her only three point attempt and also added three blocks with three assists in just over 25 minutes.
#The Foxes are the only undefeated team in the league at 10-0. Eleven games remain in the regular season which concludes March 11.
#Through six games, Jones is averaging 19.8 points, 10 rebounds, 2.8 assists, and 1.8 blocks per game.
#The Foxes returned from the midseason break after they finished EuroLeague Group C first round play at 3-0 at the FIBA designated bubble in Girona, Spain. The second EuroLeague group round hub matches will be played January 19-22.
#Last season, Jones' first with the club, Ekaterinburg captured their second consecutive and fifth EuroLeague title with a 91-67 win over Dynamo Kursk in Sopron, Hungary.
#She appeared in eight games averaging 19.6 points and 7.6 rebounds per game.
#UMMC has won five EuroLeague titles (2003, 2013, 2016, 2018 and 2019) and are perennial Final Four competitors.