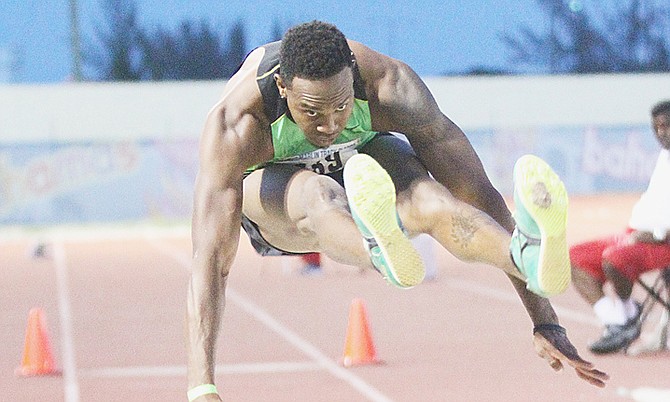 Leevan 'Superman' Sands
#By BRENT STUBBS
#Senior Sports Reporter
#bstubbs@tribunemedia.net
#ELITE Bahamian horizontal and vertical jumpers Leevan 'Superman' Sands and Trevor Barry, preparing for the Olympic Games in Rio de Janeiro, Brazil, competed at the IAAF World Challenge at the Beijing National Stadium in China yesterday.
#Sands, in his comeback trail since he was injured at the last Olympics in London, England in 2012, was seventh in the men's triple jump with a leap of 16.22 metres or 53-feet, 2 ¾-inches at the famous Bird's Nest where he won a bronze at the 2008 Olympics.
#China's Bin Dong (17.24m/56-6 3/4) and Shuio Cao (16.98m/55-8 1/2) took the two spots respectively ahead of Cuba's Alexis Copello, who did 16.93m (55-6 ½) for third place.
#Sands has qualified for the Olympics after he won a bronze medal at the Pan American Games on July 24 last year in Toronto, Canada with a leap of 16.99m (55-9). The qualifying mark is 16.85m (55-3 ½).
#He trails Latario Collie-Minns, who has posted the best mark so far of 17.18m (56-4 ½) on May 16 last year in Starkville, Mississippi.
#Dong is the IAAF World Indoor champion from March in Eugene, Oregon.
#Barry, one of three Bahamian qualifiers for the Olympics in the men's high jump, soared 2.20s or 7-2 ½ for eighth place, tied with Brandon Starc of Australia.
#Majd Eddin Ghazal of Syria was the winner with 2.36m (7-8 ¾) for a world leading mark.
#Barry has the third best qualifying height of 2.29m that he did at the World Championships in Beijing on August 28 last year.
#The top two qualifying jumps have been posted by Donald Thomas with 2.34m (7-8) on July 7 last year in Hungary, and Jamal Wilson, who did 2.31m (7-7) in Linz, Austria on February 12 this year. The automatic qualifying height is 2.29m (7-6) and Ryan Ingraham, the other elite Bahamian jumper, is sitting just outside with a best of 2.28m (7-5 ¾) that he did on June 27 in winning the Bahamas national title last year.
#However, only three athletes will be allowed to compete in an event for a country unless there is an athlete who was given a wild card or an exemption as the reigning champion.